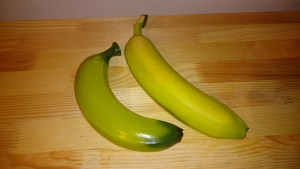 I received the Curved Banana in return for my honest review by the amazing Self Delve. The fact I got the curved banana free of charge is not going to affect my review. Who are Self Delve? They are a German company who specialize in making unique dildos that often have a colour changing pigment in the! Cool right?
Anyway as you all know I am a little bit of a strange and unusual dildo collector of sorts, I have varied dildos ranging from zombie dildos to dragon dildos. Well Self Delve are something else! They are very positive about self-pleasure and make a wide range of fruit and veg shaped toys in there Garden of Eden range. All of these dildos are often quite symmetrical to the actual object however they are made from 100% body safe silicone. No D.I.Y dildos here!
Self Delve also make some very lovely looking none food based dildos. Like the Adam and Eve which I will be reviewing soon! They even have a Snowman themed dildo! Self Delve also make dildos to order by custom requests, see s dildo you like but want a different colour, they will make it for you. Along with this they also sell, Masturbator sleeves, penis shaped dildos, Kegel balls and ball gags.