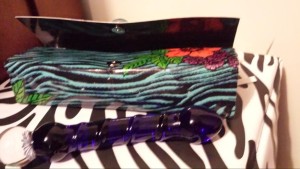 Storage is one of my problems as an owner of a lot of toys I find it difficult to store silicones away from each other and glass safely. Let's face it these plastic and card board boxes your toys come in aren't going to last long they usually get crushed or ripped and end up that battered that they are no longer able to store your toys.
I searched etsy for dildo storage options and came across miss fits toy box: https://www.etsy.com/uk/shop/MisfitsToybox each tote is made from vinyl and can be made to your toy's measurements and your style of colour or pattern or theme. Misfit's toy box welcomes custom orders too.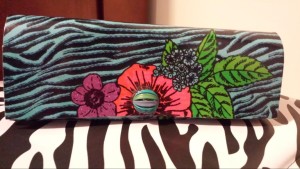 I contacted them as I wanted a tote to fit a glass toy I purchased from etsy which the original packaging was not suitable for storing the toy. So I was asked measurements and then what style I would like my initial thought was zebra print. Asking for no specific details I was sent a few sample patterns and the one that stood out was a blue zebra print with colourful flower detailing this was perfect.