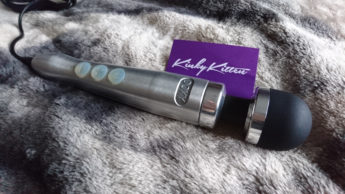 I was very lucky to receive the Doxy Number 3 free of charge in exchange for my honest review for Crimson Princess. Crimson Princess are a UK based retailer who offer a wide range of affordable sextoys, so if you haven't already checked their website out go do so! As always the fact I was given this product free of charge is not going to affect the outcome of my review.
Doxy Number 3 essentially a smaller version of the Doxy Die Cast. My previous experience with Doxy wands are they are amazing but heck there overly large and after a while you're bound to get dead arm. Well my prayers where answered and they made a smaller version.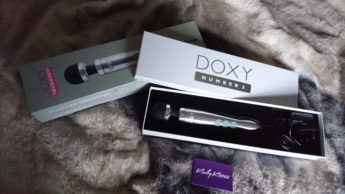 The Doxy Number 3 came in a slim box which has the Doxy lettering across the front this is covered in a cardboard sleeve which has a picture of the Doxy Number 3. The Doxy Number 3 is definitely more comfortable to handle compared to the bigger sibling the Doxy Die Cast, it also feels half the weight which is fab like I mentioned previously I am prone to getting Dead Arm when using the Doxy Die Cast too long.