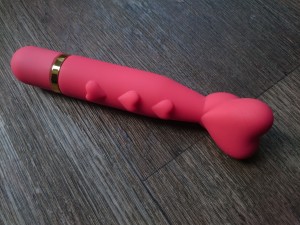 The Heavenly Heart is part of the Doc Johnson Wonderland collection. I brought the Heavenly Heart from simply pleasure during a sale.
The Heavenly Heart is a battery powered mini vibe which can be used for both external and internal stimulation it features 3 raise heart shapes on the shaft which then forms to a rounded heart shape at the tip this has a round nodule on the back for pin point stimulation of the g spot or clitoris. The Heavenly Heart features a push button control which you use to cycle through the 3 speeds and 7 pulsation patterns. The button lights up when it is pressed on. The heavenly Heart is also fully waterproof.
When using this vibe internally I can use the heart tip to scoop /massage my g spot and if I turn it around I can use the nub to give my g spot more pin point stimulation. By rubbing the nub around my g spot it makes it swell and become more easy to access once this is achieved I flip it back round so that I can massage it with the heart as this is a more gentle stimulation on my swollen g spot. The 3 Heart texture along the shaft adds some much needed texture to this toy which give more stimulation.