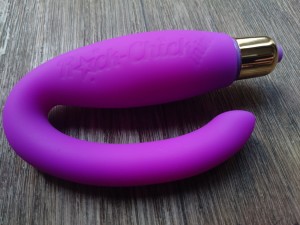 I purchased the Rock Chic Mini from ann summers. I have previously used the rock chic but found the shaft too large for my liking and I was uncomfortable whilst using it. Since then rocks off brought the mini out and I am so glad they did.
The rocks off rock chic mini is a wearable g spot vibrator that offers both g spot and clitoral stimulation due to the shape of the silicone. It is a silicone sleeve which has a rocks off 7 speed bullet inserted into it. This can be removed for sterilization of the rock chic mini which is great if you are looking to share. The rock chic mini is 100% waterproof.
You are able to wear the Rock chic mini as a wearable sort of rabbit vibe just lay back and relax and let the rock chic do its job. You can however use the rock chic mini as a cow girl position type vibe where as you ride and grind and rock with the vibe inserted to give extra stimulation. This gives you a work out whilst you masturbate.
Rocks Off are well known for their bullets they are one of the most sought after most powerful bullets you will come across. A rocks off 120mm was my very first bullet vibe and I have had many since.