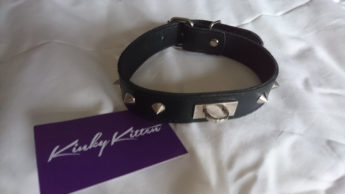 I received the Rouge O-Ring Studded Collar in my #LubeAndALaptop goody bag. These bags where made up by various products the Rouge O-Ring Studded Collar was kindly given to Latex Leather and Lace for us bloggers from Rouge Garments. The fact I received this collar free of charge is not going to affect the outcome of this review. I really do recommend checking out both Rouge Garments and Latex Leather and Lace they are both amazing companies.
The Rouge O-Ring Studded Collar I received was black in colour. It also comes in: Red, Pink, Blue, Purple and Brown just like the Rouge Paddle you can get your Collar to match your paddle if you wanted.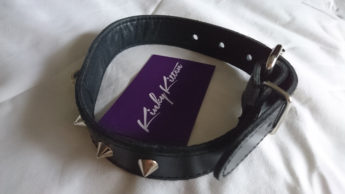 I was wearing a black dress to LubeAndALaptop I did also have a choker on so I decided to take it off and wear the Rouge O-Ring Studded Collar instead. It looked amazing and totally suited my aesthetic that day.