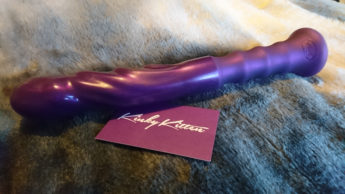 I received the Tantus Goddess Handle free of charge in exchange for my honest review for Tantus. Tantus are an American company who make only 100% silicone dildos, butt plug, cock rings and more. They are pretty awesome and I recommend checking them out if you haven't done so already.
The Tantus Goddess Handle is part of the Handle range of dildos Tantus have, these are dildos that have extra length that has finger grips near the base. This design is amazing and I have loved the other handle dildos I own the Tantus Anaconda Handle and the Tantus Echo Handle. I think they make a great option for those who find gripping dildos close to their genitalia a little tricky or those that get arms ache from reaching down so far. It is also great for couple's play you can have partner use the Tantus Goddess Handle or any other handled dildo on you and the handle helps them to really thrust it whilst being comfortable to grip.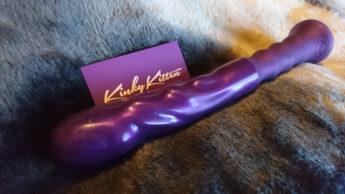 The Tantus Goddess Handle I have is the Midnight purple version I do believe it also comes in a pink version too.  It has a rather bulbous head that then tapers into a few waves, these wave give this dildo its texture. I love a textured dildo and this one doesn't fall short. The texture is a little more subtle than the echo Handle but I actually prefer this.
The shaft is pretty slim and although the head is bulbous it actually isn't as girthy as it looks. I do prefer the subtle texture below the head as opposed to all over the shaft like the Echo Handle. I also love the thinness of the shaft it makes thrusting easier.
The Tantus Goddess Handle has a shiny finish silicone which can be quite grabby so I would suggest using a good quality water based lube and don't be afraid to add a little extra during use. The handle has a matte finish this actually enhances the grip on the handle especially when you've got lubed up hands.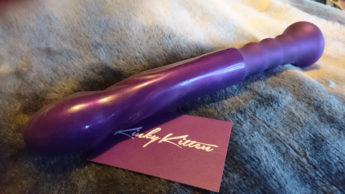 The Tantus Goddess Handle is also pretty flexible and can be bent almost in half despite the famous Tantus firm silicone it's made from, don't let the firmness deceive you this baby can be bend in various directions which means it can reach all the spots you need it to.
I was eager to see how the Tantus Goddess Handle preformed I have already tried and loves the Tantus Anaconda Handle and the Tantus Echo Handle so I must say I started out with high hopes that the Goddess would deliver and it did!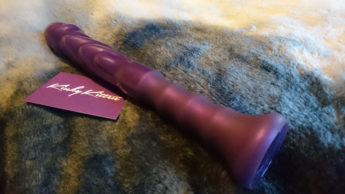 During use I find the Tantus Goddess Handle easy to handle (pun intended!) I can grip comfortable on the handle and thrust away till my heart and vagina's content. I found the shaft has the right amount of girth for me it is quite slim which means I am able to thrust it very roughly without worrying I'm going a bit too rough. The head feels great the initial pop when it enters me feels incredible.
I do also really like how the subtle texture can really be felt against my vaginal walls. It isn't over whelming and "gratey" like a very highly textured dildo but it isn't too faint that you barely feel it. It has a sort of middle ground and I think that's the perfect combination for me.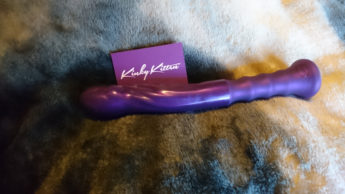 Tantus have won me over again by making such a great dildo that I can enjoy effortlessly. I love the Handle range and I'd like to see it be added to in the near future. I have previously mentioned it's great for couples play but it also makes a great spanking tool.
The Tantus Goddess Handle looks similar to a baseball bat so you can hit things with it which includes getting creative and using it as a very thuddy spanking paddle.
Overall Rating
Appearance

Texture

Girth

Length

Firmness

Orgasm
Summary
I recommend the Tantus Goddess Handle to anyone who wants a subtle textured dildo, those who want a thin shafted dildo, those who want to use a dildo with a partner, and those who find it uncomfortable to thrust dildos the handle really helps! also anyone looking for a dildo that is firm but flexible.
RRP: From £43.82

You can find the Tantus Goddess Handle at

Tantusinc.com