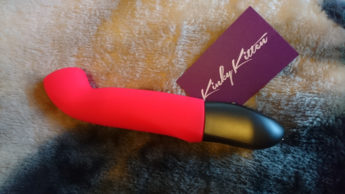 I received the Fun Factory Stronic G free of charge in exchange for my honest review for Fun Factory. Fun factory are known for their colourful quirky vibrators and dildos. Fun Factory also have a line of toys that thrust called Pulsators they are truly remarkable I really suggest checking them out. The fact I was given this product free of charge will not affect the outcome of my review.
The Fun Factory Stronic G isn't a vibrator! It thrusts, the Stronic range uses thrusting pulses to re-create a manual thrusting motion. This happens very quickly so it can look like the Fun Factory Stronic G is actually vibrating however it is just thrusting very quickly.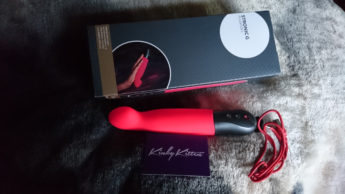 The Fun Factory Stronic G comes in three bright colours: Pink , Grape(similar purple to my blog theme) and cool blue (dusky baby blue) I received the Pink one this isn't your average run of the mill Barbie pink usually seen in sex toys it's actually a really bright neon pink.
That's enough about colours, the Fun Factory Stronic G is made from 100% body safe silicone and can be sterilized between uses. It also has a rechargeable battery that uses the iconic Fun Factory Click n Charge magnetic USB cable to charge it up, the charge cap also lights up to show it is connected to the magnetic pins properly and that it is charging. It also has a travel lock like most of Fun Factory's vibrators/Pulsators making it very travel friendly, it won't be going off randomly in your luggage. The Stronic G is also waterproof which let's face it if it's a G spot stimulator it sort of has to be, right?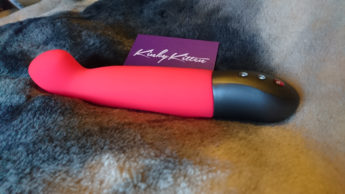 To turn on your Fun Factory Stronic G you press the FUN button this is red in colour and at the base of the Pulsator. You then press the (+) button to increase the setting once you reach the top setting you will cycle through the patterned settings, to decrease the setting you press the (-) button. And to stop the Pulsator you simply just press the FUN button again. You can choose from 7 intensity settings and three patterned modes. You can also set the Fun Factory Stronic G to remember your favourite setting so it will always start off on that setting when you turn it on.
The shaft of the Fun Factory Stronic G is pretty straight it has a slim shaft that tapers to an angles hook/ledge type head. This rests just against the G spot during use. I have also found that the angle and shape of the head makes finding my G spot relatively quick work, it sort of just hooks right behind it and gently but firmly tugs on my G spot as it thrusts.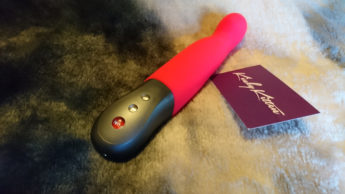 During use it may come as no surprise to you that the Fun Factory Stronic G gives my some pretty hefty orgasms. The movement is quite similar to a pop bottle being shaken up but in your vagina if that makes sense? A very weighty pop bottle. I assume the weight is what makes it thrust, it sort of just rests against my G spot and jack hammers away chipping each bit of pleasure out of me until I burst into a huge G spot squirting orgasm.
I can't say I have ever had so much fun with a G spot toy, the repetitive rhythmic pulses offer my G spot nothing else can. Many a time I have had hand cramp mid dildo thrust or my fingers have cramped up and my rhythm slows. This means my climax falls and I have to pick it back up again. The Fun Factory Stronic G actually never stops it carries on its continuous thrusting which is almost robotic.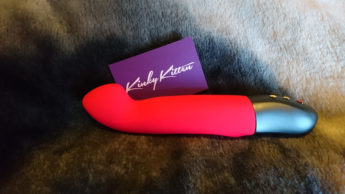 The best thing I love about the Fun Factory Stronic G is that it's a lazy toy, I can just insert it and let it rest against the quilt and lay back while it thrusts me into a frenzy. Being able to fully relax and have hands free stimulation really helps with the climb to orgasm so it's a win-win for me, I just let the Stronic G do to work.
I really do think I have fallen in love with the Fun Factory Stronic G it gives me something no other G spot stimulator can and I get to be lazy as hell whilst using it. Holy Fuck am I starting 2018 with a bang this is my new favourite G spot toy and it's going to take a lot to knock the Stronic G from its top spot!
Overall Rating
Appearance

Shape

Pulsations

Intensities

Girth

Length

Orgasm
Summary
I would recommend the Fun Factory Stronic G to anyone who wants a lazy way to masturbate, Those who want a toy that thrusts, Those that like rhythmic G spot stimulation, Those that want a G spot stimulator, Anyone who struggles to keep up rhythmic thrusts (I think it would be great for those who suffer with disabilities as you don't have to hold or maneuverer it yourself it is hands free), I also just recommend it to anyone who owns a G spot!
RRP: From £149.99