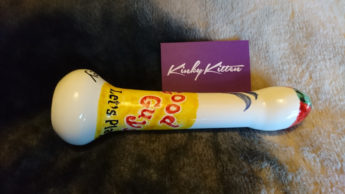 I received the Persian Palm Lucrezia free of charge in exchange for my honest review for Persian Palm they are a company who make Hand Painted Ceramic sextoys from Tuscany. I first met the owner at the ETO Show back in 2016 she was incredibly polite and wanted to spread the word about her artistic ceramic dildos. Things like this don't come too often in the sex toy world custom handmade dildos are something I adore among the mass produced dildos in this industry they are the roses among the thorns. If you haven't already I recommend you check Persian Palm out they offer a unique and personalised service. The fact I was given this product free of charge will not affect the outcome of my review.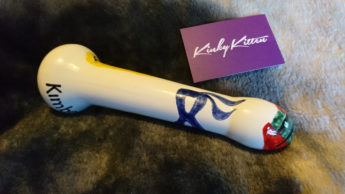 Persian Palm offer a range of hand painted Ceramic dildos and butt plugs which can be sterilized and are completely body safe. They have various shapes which come in very pretty designs the classic line has more traditional patterns with bright coloured paints, they also have the gold line which has a more luxury aesthetic. Persian Palm also offer the option to have a bespoke custom piece. You can design a special design or wording to be painted onto your dildo or butt plug.
During my first few conversations with Eva I wandered how personalised I could get my dildo. Eva said she could have almost anything painted on one of her dildos. So my inner nerd was excited and I got a few things in mind that I wanted to make my Dildo totally unique and personal to me. In case I haven't mentioned I am a huge 80's horror fan I grew up watching A nightmare on Elm Street and Child's Play these films have sparked a huge love of horror for me.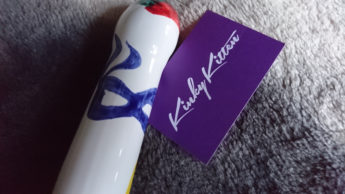 I had to have these incorporated onto my Persian Palm Lucrezia dildo not because I want to be able to penetrate myself with the images but because I can look at this dildo and have a connection, it can be displayed as an ornament it doesn't look like a dildo which is great because it is a piece of art in itself. So I played with the idea of having a horror themed dildo but wanted something else. As a 90's kid I watched Teenage Mutant Ninja Turtles all the time my favourite character is Leonardo, I was always a tomboy and never wanted girly things TMNT action figures where what I played with.
Eva explained that some images that are more detailed can sometimes look less effective because everything is hand painted it means smaller detailed pieces are trickier to accomplish. However she reassured me her expert painters would be able to create almost anything I imagined. I could've gone simple and had my blog logo on there but I wanted something that spoke to me after all I'm a person not a brand.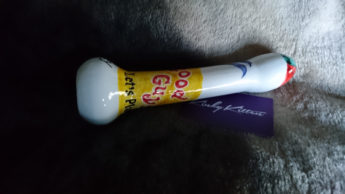 So I managed to get a simple image of a blue mask which symbolised Leo, I wasn't too fussed with the position on the dildo I just wanted them all to fit. Eva got me to choose a shape for the dildo I chose the Lucrezia with less texture than the LuLu or Eva I thought it would be one I would use more I've never experience Ceramic before but I figured it would be similar to glass so the Firm texture is something I have to be in the mood for whereas I can just use the Lucrezia more often. It's a personal decision.
So I sent Eva a picture of Freddy's iconic 4 slashes on a red and green back ground, the child's play "Let's Play" logo and the Blue eye mask logo. I wanted to keep the designs simple but also iconic as to what they are. After seeing other blogger's personalise theirs with their names I also requested I had my name along the base. You can't get more personalised than that!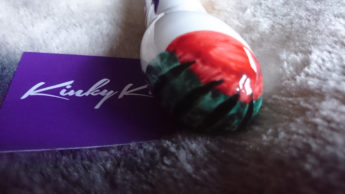 The paint is applied to the dildo/butt plug in several layers to make sure the paint really shows through once finished. Once the layers of paint are done the dildo then gets placed onto a rack and into the Kiln for cooking. The heat sets the paint under the Glaze and creates a shiny coating on the ceramic the paint is now sealed into the dildo.
Once the Persian Palm Lucrezia is out of the Kiln, there is still a hole in the base this is then sealed with a metal seal that has the Persian Palm logo embossed into the base this plugs up the hole so your dildo is completely air tight.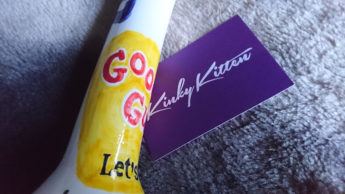 I had no idea how my dildo would look, I sent those images and all I could do was trust that the painters would make my vision a reality. They did just that and more!
My Persian Palm Lucrezia arrived in the most perfect packaging. The box it came in was a lovely cardboard book shaped black box with the Persian Palm logo on the front. From a side view it really looks like it has pages. This case is made completely of layer cardboard. Once you open the front you can then see your dildo places in a cute out of its shape and below there is a small rectangular cut out which hold a very thickly padded silk lined fabric storage bag. I appreciate the attention to detail and the storage bag is one of the best quality ones I have encountered in all my 3 years of blogging!
The packaging being all one piece of cardboard means that you can recycle it (if you can resist keeping the book like packaging) so huge points for the Eco Friendly packaging!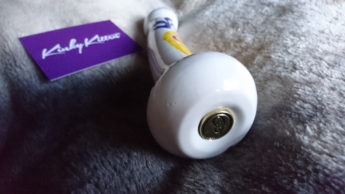 When I first saw my bespoke Persian Palm Lucrezia I was completely in awe I just stared and rotated it and stared some more. The tip has my Freddy picture on with the red and green back ground. Just below that is my Blue Leo's mask under. Then wrapping around the underside is the Good Guy's Logo! My name is along the base. This dildo just screams me! It's perfect.
I couldn't have designed it better myself , I sent Eva the pictures but not the placement or size the fact they nailed it and made it look so beautifully perfect is amazing! The Lucrezia Shape is a Semi Phallic shape, it has a sort of "head" but it also curves so it's more of an abstract penis shape. Which is great because it means I can have my Persian Palm Lucrezia on display (it's a piece of art so it deserves to be displayed) and no one will know it's a dildo. It could pass for a very abstract centre piece on a table or an unusual ornament.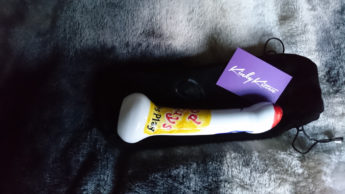 The Persian Palm Lucrezia is made from Ceramic that can be sterilized and is very robust. However you do need to handle your ceramic dildo carefully like glass and Metal if dropped the Ceramic may crack or chip and then it would be unsafe to use, it would take a heck of force to chip this ceramic however it is worth handling with care just In case you wouldn't want your bespoke dildo to break, it's irreplaceable no two are the same.
During use the weight of the Lucrezia feels incredible! The head sort of pops in and once that stretch is reached the weight of the lucrezia just pushes the dildo in further the shaft of the Lucrezia just slides right in. The smooth hard surface gives me a very firm stimulation which is great for G Spot stimulation but more about that later. When used with the curve facing downward and the head resting on the front wall of my vagina the tip of the head curves toward the back wall of my vagina stimulating the back wall firmly. The length also means it can reach quite far back stimulating the very back wall deeply this feels incredible and it's a spot that I rarely get stimulated from most dildos.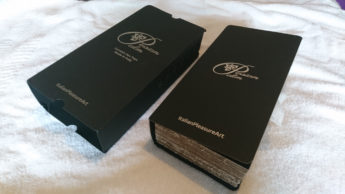 When flipped and used with the curve facing toward the front wall of my vagina the tip really stimulates my G spot this coupled with the weight and firmness of the Ceramic builds be up to amazing Squirting G spot orgasms effortlessly! This is my preferred way of using the Lucrezia even though the dildo is facing "backwards" it feels better used this way, not that used the other way is no less pleasurable!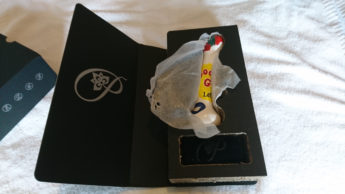 I prefer to use silicone based lubricant with my Lucrezia it is more durable than water based and lasts long during use.
I think that Persian Palm offer a personalised service that is exceptional, I would love to receive one of their dildos for a gift! Of course they have ready available options which are just as beautifully crafted. To own one of these dildos is a luxury and I think they make the most beautiful dildos I have ever seen.
Overall Rating
Appearance

Weight

Shape

Ease Of Use

Value For Money

Girth

Length

Orgasm
Summary
I very highly recommend Persian Palm to those who want a Personalised Dildos, those who want a Ceramic dildo those who like firm weighty Dildos, anyone who appreciates the art that goes into handmade dildos, anyone who likes Glass Dildos (Ceramic has the same weight and firmness) and anyone who wants a dildo that will outlast most of their collection!
RRP:
Gold Line: £122.74

You can find the Persian Palm Lucrezia at

PersianPalm.com