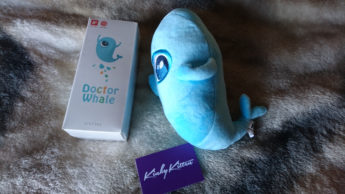 I received the Doctor Whale Kegel exerciser free of charge in exchange for my honest review for Sistalk. The fact I was given this product free of charge will not affect the outcome of my review at all. Sistalk are a relatively new company who want to make Kegel vibrators more readily available to those who want them.
They have designed 3 Monsters Doctor Whale, Mister Devil and Master Godzilla. These Kegel trainers are designed to look like cute monsters to entice more women/young women to want to exercise the Kegel muscle. I also believe that sex toys are not readily available in some countries so designing them like a cute monster would also be a better way of getting them out into the world without the typical vibrator taboos. Sistalk are a Chinese brand and decided to take a more playful approach to these vibrators because sexual pleasure is not usually appreciated in Chinese culture. By taking the cute/monster approach they made characters into vibrators far from the mass produced rubber dildos usually made.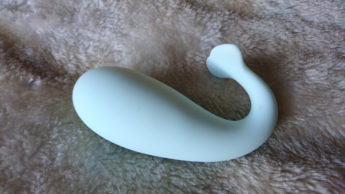 My Doctor Whale came with a cute plush of the character too I'm not too sure if this is just a PR thing or if you get the plush when you purchase a Monster. But it's so cute and has been accompanying me of a night time to bed. I also believe they have t shirts with the characters on too this might just be a staff thing but the picture I saw in the ETO magazine made me love the characters even more.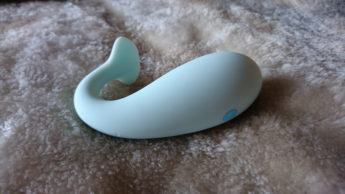 The Doctor Whale came in cardboard packaging with cardboard inserts to section the Vibrator from the USB charging cable. It was also padded out with blue paper strings these protect the Doctor Whale and because the whole of the packaging including the stuffing is made from paper/cardboard it can all be recycled which I love. I wish more companies would make efforts to be more Eco friendly with their packaging.
Each Monster is made from 100% silicone and can be controlled by an app on your phone, they are also rechargeable (the charging pin is pushed into the base of the tail underneath the body) and comes with a charging cable and storage pouch. Doctor Whale is also waterproof. It also has 4 vibration patterns and 4 intensities. They also give you 1 year warranty and discreet shipping.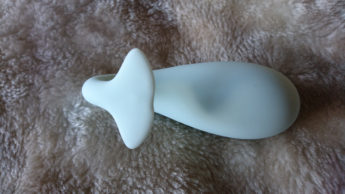 To turn on the Doctor Whale you pinch the base of the tail. This will start the LED to flash. You then pinch it again to start the vibrations, you then press again to cycle from the lowest continuous setting through to pulses and patterns. When you want to turn of doctor Whale you inch and hold the base of the tail for 3 seconds and the LED will turn off.
The Doctor Whale comes in a pastel blue colour, it has a smooth bulbous head which is inserted into the vagina and rests against the G spot. This then goes into a tail which reaches around to form a whale's tail this is the clitoral stimulator. Aesthetically the doctor Whale looks just like a whale and I love the design it looks very cute and could easily pass for a whale sculpture which means it is also discreet.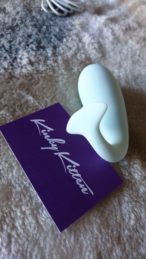 You can also link your Doctor Whale up to the Sistalk App where you can customise vibrations and get a visual guide on training. The app can be accessed on the app store. You can also use the app for long distance relationships your partner can control your Doctor Whale from a whole other country after you send them a link that is.
The App itself is very well made. The first couple of set up screens are in Chinese so I just pressed any option and hoped for the best. I was then took to a part where I needed to set up an account, this was in English. It did ask for various information such as name, where you live (country, county, city) and your birthday. This seems a little excessive to me I'm not sure why you would need such information apart from to create a profile. This profile does keep track of your progress and you are able to upload a profile picture if you wish. While in this app you can then see other user's profiles and view their information.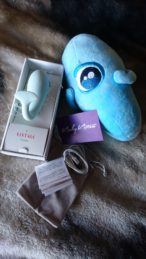 I do understand the whole "Sis" thing means you can share your vibration patterns with other users however I'm a little paranoid over keeping some personal stuff anonymous so it's not really for me but if you don't mind sharing that with other users you have a whole social network where you can share your favourite training vibration modes and keep track of your own progress. The app picks up your Kegel squeezes and guides you when to tense and release kind of like a personal trainer.
There are both pros and cons for the app but it's totally up to the user if they want to use the Doctor Whale in the app you can use it fine without which I prefer. The app does however have really easy to navigate buttons and it's also really responsive I didn't have any lagging whilst I used it. Everything is very colourful and very easy on the eye.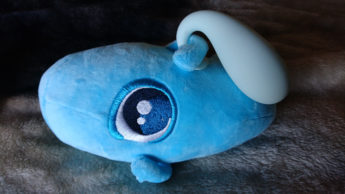 During use I actually found the Doctor whale gave me amazing clitoral orgasms! I was kind of doubtful at first with the tail shape I wandered how on earth it was going to focus on my clit and not my labia. Along the underside of the tail in the centre is a small but more pronounced ridge this ridge rests against my clit and it's fucking incredible! I have used many vibrating Kegel exercisers and usually I don't orgasm whilst doing my Kegels just because the angle of them is wrong or the vibrations are too weak.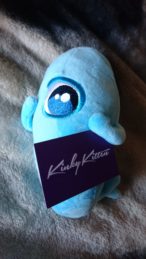 I love how bulbous the internal prong is, it pushes against my G spot because it just fills me, the other Kegel trainers I have are usually a lot less girthy and heck am I grateful for that extra bit of girth. As I squeeze the internal prong pushes against my G spot firmer, when I release the clitoral arm pushes against me a bit more. It's an odd combination but it works.
I thought the Doctor Whale was just another Kegel vibrator, it vibrates you do your Kegels and that's that but no I was mistaken. I actually get to orgasm too. Many Kegel devices promise to do this and most don't I am honestly in shock at how much I enjoy the Doctor Whale.
I prefer to use the Doctor Whale without that App like most of my App controlled vibrators it's a novelty that I often don't indulge in. That said I love the Doctor Wale and it has done everything it promised to do, I cannot fault this product.
Overall Rating
Appearance

Shape

Vibrations

Value For Money

Orgasm

Build Quality
Summary
I would recommend the Doctor Whale to anyone who wants a Kegel trainer, those who want to try a more bulbous Kegel Device, those who like App controlled vibrators, those who want a discreet vibrator and those who want to try something different the Doctor Whale is unique.
RRP: From £56.28

You can find the Doctor Whale at

Amazon.com