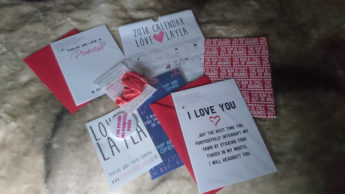 I received all of these products free of charge from Love Layla Designs they reached out to me to see if I would like to write about a few of their naughtier cards ect Of course I said yes! Anything quirky and unique and I'm all over it. The fact I was given these products free of charge will not affect my review.
Love Layla Designs is a family run business they create the most beautiful great quality cards and other occasion items that are perfectly humorous. They aren't afraid to break the mould and create funny designs that contain phrases that to your average human may seem a little rude. Let's face it your on my blog here so I'm not going to sugar coat things.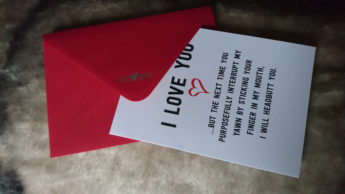 I fucking love the way Love Layla Designs have been able to create something totally unique but also something that appeals to gear more towards people with a sense of humour.
The Valentine's Day range in particular has a wide range of products which have kinkier scripts. Love sitting on his face? Love Layla Designs has a card for that! Got married now you're happy with that same penis the rest of your life? Love Layla Designs has a badge for that! Really want someone to spank you? Send them a card Love Layla Designs has a card for that too!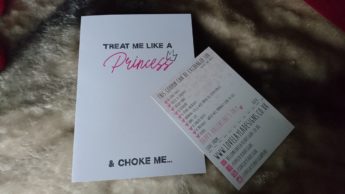 I do think my fellow Kinksters would agree that these cards are perfect for that special twat in your life! Someone you are open with who you know will love the humour as much as you or maybe your serious as hell and just want them to get the picture and spank you already! Sending them a card this Valentine's Day may be the right way to get the point across.
When I first looked at their website I went through other sections and I have to say even the new baby section is filled with funny and blunt wording which I adore. I also love the brands design everything looks really professional but also homely as well if that makes sense.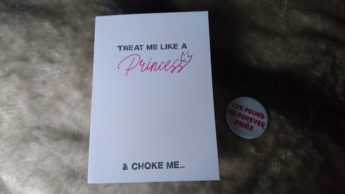 If you do not like swearing or use of vulgarities then Love Layla Designs does have some more funny options that don't include swear words but let's face it the ones that have swear words on are a lot more fun! I particularly like the "Treat me like a princess" card I feel it speaks to me on a personal level because I am a princess but heck I do need a good old choke every now and again.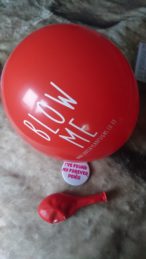 Love Layla Designs don't just sell cards they have a lovely selection which includes badges that you can give to someone so they can proudly declare they have got a "massive knob" or maybe they are just  a wanker you can also get a badge to wear to let everyone know that you're a huge Wanker. I know I'm a huge wanker why not tell the world. I do love the badges I think they would be great 90's style attached to a denim bag or jacket. Or even just worn on your shirt.
I got given a pack of Valentines balloons from Love Layla Design too they have the most hilarious slogan on "Blow Me" now they can be used to decorate the bedroom if your wanting to get a little lucky on valentine's day/night or they can be too literally and you can Blow the Balloon. I have to admit there's something amuses me about these balloons the thought of balloon asking you to blow it just tickles me.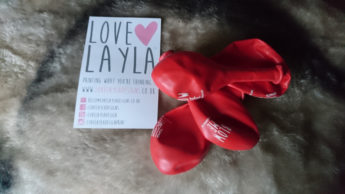 Love Layla Designs also sent over a 2018 calendar which is great as I didn't have one. These Calendars are full of fun images and quotes along with the dates of the month and in some of the boxes there's also handy reminders like "Steak &BJ Day" and "Cake and Fanny Day" which is my personal favourite literally have your cake and eat it (out). My favourite page is the July page where it says "Sun's out Ginger's in" with Mr being Ginger I have now told him this is his month. It's also the month of our wedding anniversary so I think it's a good fit.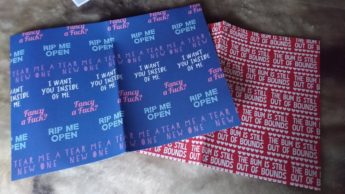 Love Layla Designs also sell wrapping paper I was lucky enough to be sent two different types: the Bum out of bounds paper which says "The Bum is still out of bounds" printed in white on a red background along with a few white hearts. I also have the Rip Me Open wrapping paper which has various sayings over a blue background some of my favourites are "Tear Me a New One" and "Fancy a Fuck?" The paper it is printed onto is very thick and good quality and wouldn't rip easily. It also has a matte finish and feels really smooth. Both of the wrapping papers I have are perfect for wrapping a valentine's gift in.
You can also get wine bottle labels from Love Layla Designs which may be a good option in case you forget the Valentine's Day present just grab them a bottle of their favourite and slap one of these labels on.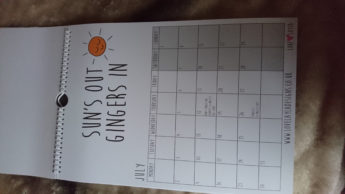 Love Layla Designs offer free delivery on every order which is great. Your order will be dispatched the next working day using First class. All of my items came amazingly packed each card and wrapping paper comes in a cellophane pocket. The envelopes do not come in the cellophane pockets with the cards but in the postage packet they are red with the Love Layla logo on the seal.
Overall Rating
Appearance

Design

Build Quality

Value For Money
Summary
I'd really recommend Love Layla Designs to my fellow Kinksters, people with a sense of humour, those who don't know what to get someone for their birthday, anyone who likes swearing, anyone looking for unique occasion supplies and basically any other dickhead who wants to buy sweary shit!
RRP: From £2.50