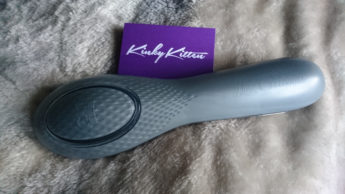 I received the Hot Octopuss Queen Bee free of charge in exchange for my honest review for Hot Octopuss, I have previously reviewed for Hot Octopuss you can check out my Pulse II Duo review here. The fact I was given this product free of charge as always will not affect the outcome of my review. Hot Octopuss started out in London but they are now known overseas. They are a pretty awesome company who make sextoys that have something different to offer which is extremely rare in this community. We have also just been given the brand new Pocket Pulse to review so be sure to look out for that review.
The Hot Octopuss Queen Bee is a wand type clitoral stimulator, it's fairly big so I would say similar in size to a Medium to Large wand vibrator. It does look like a hairbrush with a paddle shaped head and a long handle. The Queen Bee doesn't vibrate, on the head is a plate which moves creating pulse waves this creates an oscillating stimulation as opposed to a vibration stimulation.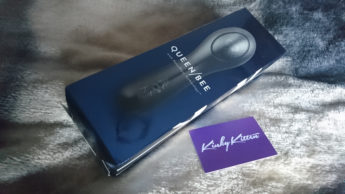 The Hot Octopuss Queen Bee is made from Abs plastic and Medical Grade TPE There has been a lot of speculation as to why this material was used, However Hot Octopuss have clarified that for the Pulse Plate technology to work this was the only material that would allow the right movement and not affect the performance. I personally had no idea medical grade TPE existed however it is used in hospitals for medical equipment, so it's entirely body safe.
The paddle of the Hot Octopuss Queen Bee has a bumpy texture on the back this can be used for gentle stimulation. I prefer to use this side as a warm up before or just after orgasm when I am most sensitive to stimulation. The pulses for me can be felt through the back of the paddle quite well even on the lowest settings.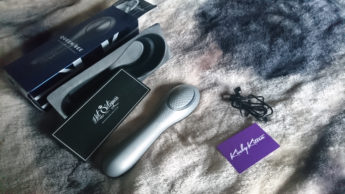 The Front of the Paddle has a pulse Plate with the Hot Octopuss crown underneath the TPE (you cannot feel this texture) The Pulse Plate moves like it is a piston it kind of goes up and down if that makes sense. This plate is what needs to make contact with your clit. I have found if you apply pressure it does slow the movement of the pulse plate so for maximum stimulation you need to just place it on yourself without actually pressing down on the Pulse Plate as it dulls the movement. The front of the handle also feature the Hot Octopuss wording however this is underneath the TPE and doesn't feel raised.
The buttons for the Hot Octopuss Queen Bee are on the back of the handle. I do think this makes it look aesthetically pleasing but I have also found I like to use my thumb to change the settings as opposed to my fingers so fumbling for the buttons during use is kind of awkward for me. It's no Biggy but I would've preferred them on the same side as the Pulse Plate. The magnetic charging pins are just at the base of the control panel just below the buttons. You also get a magnetic charging cable with The Queen Bee this has a USB end and a magnetic end which features the Crown logo this end clips onto the Queen Bee for charging.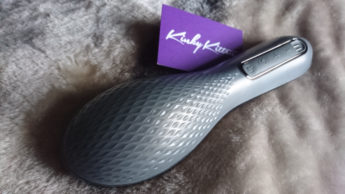 The Hot Octopuss Queen Bee is also 100% waterproof so you can use it in the shower or bath if you wish, it also make cleaning the Queen Bee a hell of a lot easier as you do not need to worry about getting certain parts wet. The Queen Bee also comes with a drawstring storage pouch like the all of the Hot Octopuss products.
The Hot Octopuss Queen Bee has 6 stimulation patterns these are controlled by pressing the (O) button to cycle through continuous and pulsations patterns. You then have 7 intensities to choose from for each pattern, these are controlled by pressing the + and – buttons. I prefer to use the continuous settings and I especially like the lower settings the first two are amazing, however I have found that there's a huge difference in sensation between the 2nd intensity and the 3rd the 3rd almost numbs me and so I tend to use the 1st and 2nd settings. To turn the Queen Bee on you just have to press the power button and to turn it off just press it again.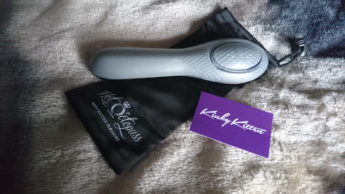 So what does it feel like? Well the best way I can describe what it feels like is it feels like placing a speaker which is on very fast/dubstep music on your clit. It doesn't feel buzzy at all it doesn't feel rumbly to me either It feels bassy. I have never felt anything like this, It does feel like bass on you clit though, it sends waves of bass through deep into the roots of your clit. It's a really strange feeling but it feels incredible. I wouldn't say it feels like a Pulse because I don't like pulse patterns usually however it does feel like Bass.
The 3rd setting for me felt a little weirder and lost that bassy feel almost it kind of went in to a numbed hum instead, this may just be my experience but I definitely prefer the two lowest settings they feel incredible.
The Queen Bee is also very loud, I thought it worth a mention, and this is one to annoy the neighbours with. I wouldn't say it's incredibly loud however it does come close to the noise of my Doxy Die Cast so I would say it's not one for those who want a quiet sextoy that no one knows you'll be using.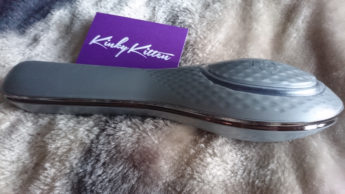 I do love the Hot Octopuss Queen Bee. I've been buzzing to get my hands on this sextoy, I was shocked at how it felt and I do love the bassy waves of pleasure. The design is sleek and elegant, the only thing I really nit-picked at was the buttons and the 3rd intensity on the continuous setting. Other than that it is an amazing clitoral stimulator. I also do really like how long the handle is, it makes using the queen be really easy, the handle fits perfectly in the palm of your hand and you don't have to get too close to your Vulva to actually use the Queen Bee which is great for those who cannot hold their arm our straight for a long time.
Overall Rating
Appearance

Texture

Stimulation

Intensities

Ease Of Use

Value For Money
Summary
I would recommend the Hot Octopuss Queen Bee to anyone who wants deep vibrations/stimulation, Anyone who like Rumbly stimulation and those who want to try something totally unique compared to other sextoys.I have loads and none compare to the stimulation the Queen Bee gives me. I also recommend it to those who like wand vibrators.
RRP: £ 119.99

You can find The Hot Octopuss at

Lovehoney.co.uk