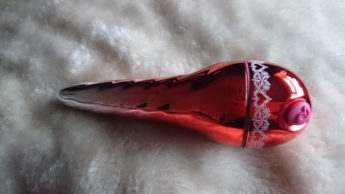 Rocks off gave me a Joycicle to review free of charge in exchange for my review. The fact I was given this product free of charge as always will not affect the outcome of my review. Rocks off are a well know company who have one of the most affordable and efficient bullet vibrators available. I have used their products from the start of my sex toy journey and they are still a firm favourite so I really recommend you check them out if you haven't done so already.
Rocks off released the Joycicles in time for Christmas, I think they would make the perfect gift this Christmas. The Rocks Off Joycicle comes in three colour variations all of which have a chrome finish that graduates into a silver tip. The colour options available are Red, Blue and Purple I think each of them is pretty and to be quite honest it    would've been quite hard for me to choose which one I would like more. I received the Red one which just screams Christmas. Around the base of the cap is a rather christmassy snowflake, heart and star pattern in white. This bullet seriously looks like a Christmas Bauble it's just so stunning.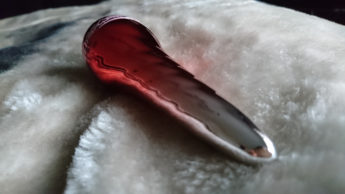 The shaft of the Rocks Off Joycicle has the same raise swirl effect as the Unicorn horn they have just released. It also has grooves in the cap so it can be held more comfortably during use. The Rocks Off Joycicle is a rather large bullet/small internal vibrator I prefer to alternate between penetration and clitoral stimulation as the mood takes me, the size of this vibrator means I can do this quite easily. I also love how the texture feels internally too. If you've been around for a while you know I am a texture queen!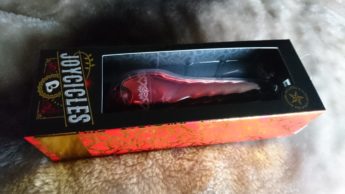 The Rocks Off Joycicle has 10 vibration settings the first three are continuous vibrations and they consist of Low, Medium and High the other 7 settings are pulsations, inclining and declining modes. These can be activated by pressing and holding the button on the base to turn it on then press the button in again to cycle through each setting. To turn off the vibrations press and hold the button for 3 seconds.
As well as being a 10 speed vibrator the Rocks Off Joycicle is also waterproof. It is also a battery powered bullet and takes 1 AAA battery which is included. The packaging that comes with the Rocks Off Joycicle has a sort of tattoo/ Christmas look to it which I love. Rocks off usually have great packaging but they have upped their game!
I p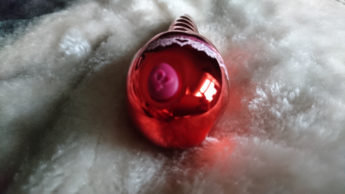 refer to use the Rocks Off Joycicle on the lowest continuous setting to sort of warm myself up then increase to the highest continuous setting once my body has adjusted to the vibrations. I prefer to use it clitorally and then dip into my vagina whenever I need to because this is a larger bullet vibe it works well when I use it this way.  I have found that the vibrations seem stronger in this bullet compared to a 10 speed Rocks Off bullet and that's because the tip actually tapers to a thinner pin point tip.
I do think that the Rocks Off Joycicle like most Rocks Off product I have tried is very well made and extremely good at giving me orgasms. Not only does this vibrator look all festive but it also functions as a great addition to anyone's toy box this Christmas. Get kinky this Christmas and gift a Rocks Off Joycicle!
Overall Rating
Appearance

Value For Money

Vibrations

Build Quality

Texture

Orgasm

Ease Of Use
Summary
Overall I think this is a great present to buy a friend or loved one this Christmas and it makes a great stocking stuffer! I recommend it to anyone who wants a unique vibrator, those who want a more sexy Christmas gift option. Those who like me love everything about the aesthetics of this vibrator. I also recommend it to those who really enjoy pinpoint stimulation and those who want a vibrator they can use internally as well as externally.
RRP: £ 18.99