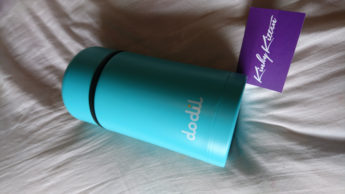 I was given the Dodil free of charge in exchange for my honest review for Dodil. The Dodil is the first ever dildo you can re-shape and re-model to suit your needs and mood. The Dodil gives you the opportunity to own one dildo that can be made into many shapes in the long run saving you a lot of money, you won't have to purchase dildos of different sizes/shapes you can just keep remoulding the Dodil. The fact I was given the Dodil free of charge will not change the outcome of this review.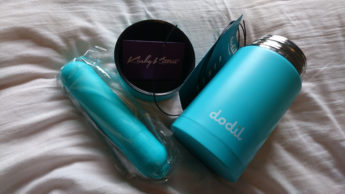 The Dodil is a gender neutral toy, it is not targeted to a specific gender. However it doesn't have a flared base so I wouldn't recommend using it anally unless of course the shape you make it into has a flared base to it. Dodil also have good environmental ethics, they have made the Dodil 90% biodegradable which means 90% of the Dodil will break down if thrown into landfill bacteria can degrade the material and it won't cause pollution. They also offer a fast eco-friendly shipping service too.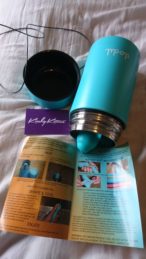 Along with the Dodil you get a lovely teal coloured steel thermos, this is where you heat it up. It also acts as a handy storage pot. You also get a set of instructions explaining how to use the Dodil. Lastly you get a plastic cord this cord can be used to tie around the Dodil creating texture or bulbous shapes without you having to keep holding the Dodil in place.
The Dodil is made from Plastic and Silicone which may seem strange so I'll explain. The inner core of the Dodil (the thing that melts to enable moulding) is made from medical grade thermos plastic the outer layer (teal in colour that comes in contact with you) is made from silicone.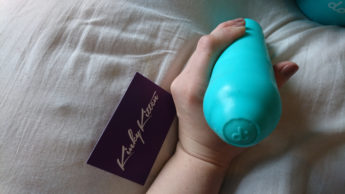 With the outer layer being silicone not only does it mean the Dodil is safe to insert into your body and it will not cause any chemical burns ect but it is also able to be sterilized between uses. You can do this by using a 10% bleach solution, boiling it in a pan for 10 minutes or even using a steam sterilizer. The great thing about the design means that it actually gets sterilized whilst you cook it up in the thermos each time you get it ready for re modelling.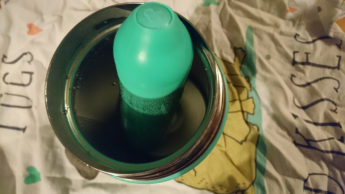 The Dodil is surprisingly firm! The outer layer has a bit of softness too it and it's very flexible whereas the inner core is solid there's no doubt about that. When handling the Dodil you have to be quite careful though, do not use sharp objects near the Dodil and be very careful if you have longer nails whilst you hold it because the outer layer of silicone can be torn when in contact with sharp items.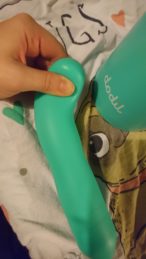 To mould your own dildo you simply boil the kettle place the Dodil in the Thermos, once the kettle has boiled you then pour it into the Thermos covering the Dodil up to the base. You the place the cap on top of the thermos and wait 30 minutes. You will know the Dodil has had enough cooking time when it looks slightly wider and droopier when picked up. You will then be able to squish and squash the Dodil into any shape you want.
The consistency is similar to plasticine just a tad tougher than playdough. It does have some elasticity and bounces back once you remove pressure the plastic cord is incredibly useful to keep pressure applied whilst it cools.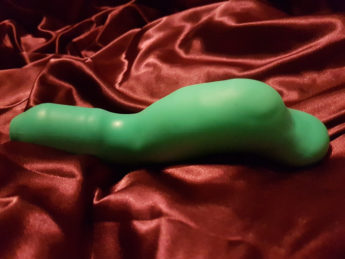 Once you have the shape you want you then just run the Dodil under the cold tap to speed up the cooling process and the Dodil will then turn back into a solid form again. Keeping the shape you made.
I chose to mould it into a shape that had a curved tip to reach my G spot. This shape ended up looking rather a lot like a platypus. During use it actually felt amazing I was able to target my G spot without even tilting it and I am definitely glad I put my Fluid proof sheet down beforehand. It was truly incredible.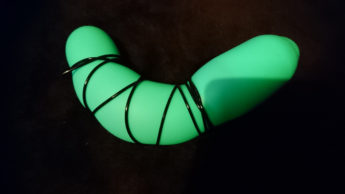 I didn't want to change this shape because I loved it so well but I couldn't give it a good review without testing it our more than once. So I gathered I could probably make the Platypus again. I decided to use the cord this time wrapping it around the shaft to create a more textured Dildo. This shape too was really good. The silicone is smooth and doesn't require too much lube during use. The Dodil had enough texture in this shape to satisfy my bumpy needs.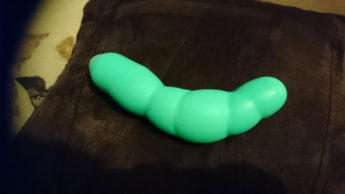 I think the Dodil is a great dildo and a first for the sex toy industry in that you can create shape after shape and change one dildo to suit your needs which means you not only have one dido but may possible dildos. If you need a G spot dildo you can make a curved one, if you crave texture you can create a bumpy one, if you need a longer dildo you can stretch it out.
The great news is I have a spare Dodil set so if you would like to own one just drop me an email through my contact form! All I ask is that the recipient pays for postage.
Overall Rating
Appearance

Ease Of Use

Value For Money

Orgasm

Overall Experience
Summary
I would recommend the Dodil to anyone who is just starting their sextoy collection as you can have one dildo that can be changed to suit your purpose. I also recommend it to those who are more eco – friendly. Those who want several dildos but don't that the money for several this single purchase could be all you need. Basically to anyone who wants a totally unique and awesome dildo that can be transformed into any shape, size or texture you need.
RRP: £ 70.69

You can find The Dodil at

TheDodil.com