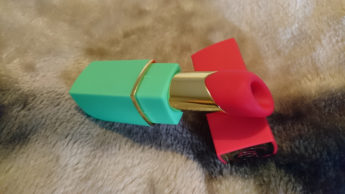 I received the Womanizer 2Go free of charge in exchange for my honest review for GoodVibrations. They are a great sex positive store who have been very supportive of my blog and Andy is awesome! I have previously reviewed for them, they also sent me the original Womanizer to review last year so be sure to check that review out too.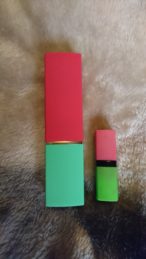 The Womanizer 2Go is Lipstick shaped however it is in no way more compact than the original. In fact it just seems more streamlined and doesn't have the nozzle poking out the side but height and width it isn't any smaller. Don't let the lipstick design fool you this is not the size of your average lipstick I have included a comparison picture in this review to show you the actual size of the Womanizer 2Go compared to a lipstick. It would've been a struggle for them to fit the motors into a lipstick sized case and the tip would be tiny if it was the actual size of a lipstick bullet it wouldn't fit over the clitoris at all so I do see the reason behind it being larger.
Size confusion aside this speaks to me on another level. I love my makeup and the past year have gotten better at applying it also my Makeup collection has grown almost as much as my Sex Toy collection. So the fact the Womanizer 2Go combines my femme aesthetic with my love of Sex toys means it is just right up my street. I received the green and pink version it does come in a Black cased version and a White cased version. The great thing about it being lipstick shaped is that the cap actually protects the head from dust and keeps things more hygienic.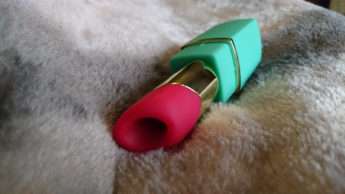 The Womanizer 2Go Also comes with a larger head this is located underneath the plastic tray in the bottom of the box so please check the back of the tray before throwing the packaging away this can be easily missed as there's no indication that it's hiding back there.
The Womanizer 2Go is also waterproof which the original isn't so improvements have been made there, It is also rechargeable and comes with a USB charging cable once fully charged you get up to 4 hours of play. You have the two heads so if you find the smaller one that comes attached to the model doesn't quite encase your clit then you can switch it out with the one with the larger hole which is found in the bottom of the box. It is quieter than the original Womanizer however it isn't exactly what I call whisper quiet once you get to the 3rd setting the noise certainly gets more audible.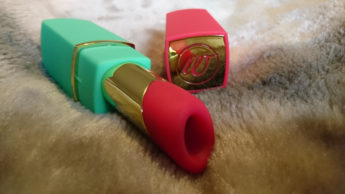 The Womanizer 2Go uses pulse/suction technology so it emits a pulse of air and essentially puffs it onto the clitoris making a seal against your vulva which creates a suction type feeling. I usually compare this feeling most to someone sucking your clit during oral especially when combined with lube. This feeling can be very intense even on the lower settings so if you like strong stimulation I'm pretty sure you'd enjoy this sensation.
The Womanizer 2Go has one push button control, you press and hold the button in for 3 seconds to turn it on and a red LED will light up the button then press it again to cycle through the settings. To turn it off you press and hold it again for 3 seconds to turn it back off. Also on the base there is a little charging hole that has a cap so you just pull it out and then insert the charger to charge it up. It has 6 intensity settings, I usually use the first 3 any more than that and it's too intense for me however everyone is different.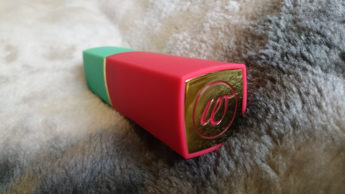 During use the Womanizer 2Go actually fits my body quite well I was worried that the shape being so straight it was going to be difficult to hold and get the suction without it being tilted. This wasn't the case the slanted lipstick tip actually fit quite well against my clit sealing it in so that I could get a great seal. I didn't have to hold it bolt upright instead I could relax and hold it at an angle and the seal of suction was consistent. It was actually really comfortable to hold for even a long while. I found the button easy to use and control the setting however with it being one button you don't have the chance to go down a level or if you go up one intensity that's too strong you have to take the Womanizer 2Go of your clit because you get a sharp intense shooting pain as opposed to the build of pleasure. This is the same with other Pulse toys that have a single button control.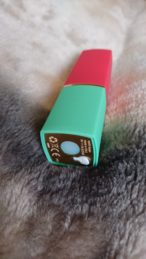 I tend to use the smaller head because my clit fits into it and it gives me a closer/stronger suction. I have been able to orgasm really quickly using the Womanizer 2Go almost every time I usually do whilst using these types of sex toys as the stimulation is so intense it kind of just pulls it from me without warning.
I do think the shape and design haven't impacted the actual performance of the Womanizer 2Go and I kind of love the quirky aesthetic if you've been around for a while you know I love my unique and quirky designs when it comes to Sex Toys something that's unique always wins my heart especially when it doesn't impact the use of the toy and it both preforms well and looks cool.
Overall Rating
Appearance

Stimulation

Ease Of Use

Suction

Build Quality

Value For Money

Orgasm
Summary
I would recommend the Womanizer 2Go to anyone who likes strong direct clitoral stimulation, those who want a pulsation Stim, those who want a quirky Sex Toy, those who like suction during oral sex and those who loved the original Womanizer.
RRP: £ 127.88

You can find The Womanizer 2Go at

GoodVibes.com