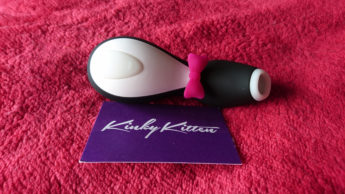 I have received the Satisfyer Pro Penguin Next Generation free of charge in exchange for my honest review. The fact I was given this product free of charge will not affect the outcome of this review. Satisfyer are a great company who have brought suction/pulse sex toys to various types of consumers. They have very affordable models and so far I have enjoyed most of the ones available so far.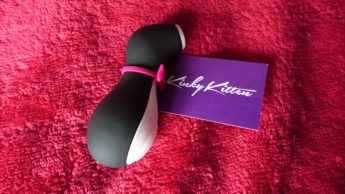 Satisfyer have released a new generation of the older models. I previously reviewed the Satisfyer Pro 2 Next Generation from the new line. Now I just had to get my hands on the newer version of the Penguin, I mean it's just so cute! Along with changing the colour from pink to a black and white more like a penguin aesthetic they have also given this little guy a bow tie! This bow tie is made out of silicone and rests just at the neck of the Satisfyer Pro Penguin Next Generation.
Now I really liked the older version however I do think Satisfyer have been able to improve and already amazing product. The Satisfyer Pro Penguin Next Generation is a lot quieter than the older penguin version. That was the first change I noticed.
The second is the fact the Satisfyer Pro Penguin Next Generation now has up and down buttons to control the vibrations settings so you don't have to press the single push button to cycle through settings and have to turn the thing off to get it back to the lower settings.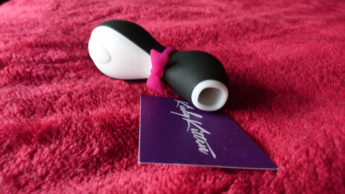 The Satisfyer Pro Penguin Next Generation also has 11 intensities which is a lot I tend to use the lower ones however if you are a power queen there is still a lot to choose from. The Satisfyer Pro Penguin Next Generation is also waterproof like all the other Satisfyer products I have.
The newer penguin is also re chargeable like the older version you get a magnetic charging cable included. Out of all the newer models I secretly hoped I would get a penguin to review I am all for quirky sex toys especially if they are creepy or cute and this toy fits my personality so well. So I managed to get one to review and of course I love it!
During use I found the Satisfyer Pro Penguin Next Generation really easy to use the up and down buttons really do make it a lot easier to use. My first use I had to use it on the first setting and I did indeed manage to orgasm on that setting alone. I have used it various times and I do prefer the 2nd /3rd settings on my less sensitive days. I have not been able to go up any further than the 3rd setting though as it is pretty intense.
This little guy just rips the orgasm right out of me. I am able to have quick orgasms in minuets and I really prefer these controls over the previous penguin's, obviously.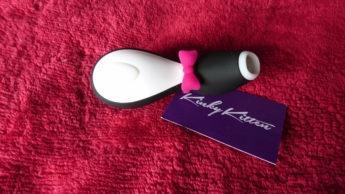 Satisfyer have done an amazing job at listening to feedback from customers and reviewers and they have taken this on to improve their products and I think as a company that is a big deal. It is very rare a company actually takes on corrective criticism and improved the product for its consumers.
Satisfyer have improved and already great product and I love the new look of the Satisfyer Pro Penguin, it kinda reminds me of Pingu! It's just adorable.
Overall Rating
Appearance

Suction

Ease Of Use

Intensities

Build Quality

Value For Money

Orgasm
Summary
I really do recommend the Satisfyer Pro Penguin Next Generation for anyone looking for an affordable pulse/suction toy, those who like direct stimulation, those who liked the previous Penguin and also those who want a powerful but quiet clit stim.
RRP: £ 69.99

You can find The Satisfyer Pro Penguin Next Generation at

Lovehoney.co.uk