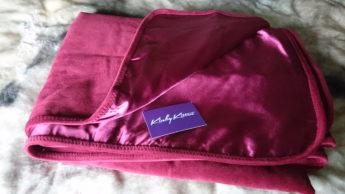 I managed to get my hands on the infamous Liberator Fascinator Throw to review for Liberator. The fact I was given the throw free of charge is not going to affect the outcome of my review. Liberator sell Luxury sex furniture that is both discreet and stylish. I have previously reviewed the Liberator Pulse for them.
As you may know The Liberator Fascinator Throw has been on my wish lists for years however I have never been able to get one to review. As a squirter my main issue is when I get too overly excited during masturbating or sex I have to hold back the urge in fear of me having to change and wash the bedding at 2 am after a decent session. I mean were not just talking a little wet patch here but layers upon layers of wet bedding that has been seeped through. So you can see why I have need for a waterproof throw right!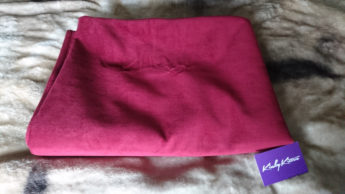 When received the Liberator Fascinator Throw I was shocked to see how thin and lightweight it actually was I was expecting a thicker heaver Throw. I didn't think it would be able to absorbed much however it has a water barrier on the inside which is coated in fluffy Faux Velvet on one side and a silky satin material which is slightly cool to the touch and I think that the Liberator Fascinator Throw would be great during a sensory play session the coolness and smooth satin vs the fluffy warmer velvet would make a great sensory experience whilst blindfolded.
The inner barrier also makes a crinkle sound when you move the Throw. It is not too audible like one of those baby playmats but only a slight crinkle and for me it is tolerable but I can image if your blindfolded this may sound a lot louder. I thought this worth a mention because I have read many reviews on the Liberator Fascinator Throw and not one has mentioned the fact it crinkles.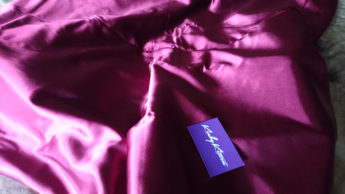 I did get to pick the colour of my Liberator Fascinator Throw I chose the Merlot which is a deep red/ burgundy colour. It also comes in; Espresso, Midnight (black), Champagne, Platinum (silver), Plum along with fluffy microfiber options in: Black, Red and Purple. I know there's a lot to pick from. Liberator have done this so that you can match the colour to your existing décor although they are missing a teal blue colour which I used to have in my bedroom. For now my décor is red/dark red so the Merlot was my best option.
The purpose of the Liberator Fascinator Throw is to be practical and also blend in with your home there is no hints as to what it is you could easily mistake it for a regular Throw.
Now the Liberator Fascinator Throw is just smaller than my double bed however they do sell a larger version. I prefer to use it on the Velvet side so it is warmer for me to lie on. I first tested it out with lube and smeared a handful of sliquid onto the Throw. The velvet just absorbed it.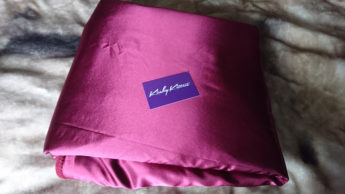 Once I had everything set out its easy enough to lie there and just relax it's rather comfortable. I planned to have a huge session of squirting no holding back in fear of soaking anything. The first time was great however where my ass dipped into the bed there was a pool of squirt. I was still lying in squirt it just didn't seep through. The Liberator Fascinator Throw Hadn't absorbed it like I thought more like it just protected my bed. Obviously I was a little excited and forgot to read it actually has a water resistant layer inside which is going to repel the wetness as opposed to absorb it.
After I had completely soaked the Liberator Fascinator Throw I got myself up left my sextoys on the throw and just stared for a second at the throw. I examined every inch to see if it had absorbed anything. What I did see was lots of little tiny droplets where it had been expelled along with pools of my squirt. It looked a little like an umbrella would if it was left on the floor in the rain.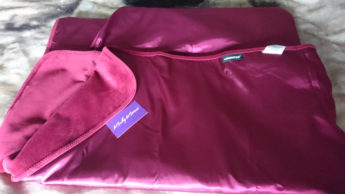 I have found the best way to pick up the Liberator Fascinator Throw once it has been used is to fold it in on itself sealing any edges do that the wetness can't be spilled. It can then be just taken to the washing machine and put on a delicate wash. You can tumble dry it on low heat or if you want to be on the safer side let it drip dry.
I have also used the Liberator Fascinator Throw on with the silky side facing up. I found that the silky material actually absorbed the wetness through to the water resistant inner layer as opposed to the Faux Velvet which made the water pool and showed resistance. I personally prefer this side of the Throw and will continue to use it with this side facing up.
So far I am very impressed with the Liberator throw I think it is a great product for anyone who does get wet or squirt during masturbation/sexual antics. Also if you are lounging around drinking wine In case you get too tipsy and tip your glass over it would prevent the wine from staining your settee. But on a serious note it is a great product for preventing things from getting damaged through spillages/leakage.
Overall Rating
Appearance

Comfort

Ease Of Use

Squirt Resistant

Value For Money
Summary
I would recommend the Liberator Fascinator Throw to those who are squirters, anyone who finds the bed gets messy during play sessions and they want to keep from ruining sheets. Those who want something practical that still matches bedroom décor and those who want a versatile throw.
RRP: £ 90.92

You can find The Liberator Fascinator Throw at

Liberator.com