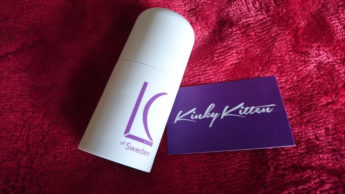 I was sent the Klittra of Sweden free of charge in exchange for my honest review by Klittra of Sweden themselves. When they contacted me I have to admit I liked the quirky design of this toy and I was eager to try it for myself.
The Klittra of Sweden was born from personal experience. There's a gap in the market and the designer notice this. Girls where using roll-on deodorant bottles filled with water to stimulate the clit creating a type of oral feeling.  This is not only dangerous because the gap between the roller ball and the plastic can catch the clitoral hood. It is also not regulated and if there is excess residue in the bottle you may be putting chemicals on your vulva which can irritate its sensitive skin.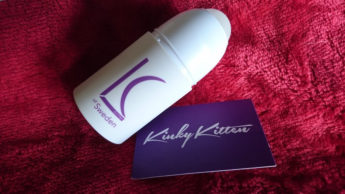 Now it never crossed my mind to use a roll on as a sex toy however a lot of people are doing it and it's dangerous! Klittra of Sweden have created a safe way to use this type of stimulation. The Klittra of Sweden is made from silicone and abs plastic making it body safe. The roller ball doesn't have a sharp joining gap to the outer casing. The design is very discreet and will blend in along with other bathroom essentials. The Klittra of Sweden also comes with a USB charging cable as it is rechargeable.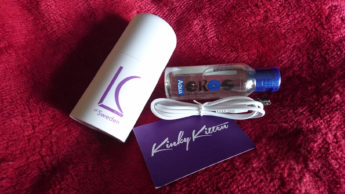 The Klittra of Sweden also has 5 vibration settings. Two continuous which are: Low and High and the other 3 are inclining and pulse settings. The top of the Klittra of Sweden screws off so that you can insert lube into the base. This means as you roll lube will dispense onto you as your roll the ball across yourself. I think this could be a great way to lube up before play you could use it as a lube dispenser.
The Klittra also has a cap that is an off white purple colour this means it protects the roller ball and keeps it clean so no dust will get on your toy.  The actual base of the Klittra is abs with plastic on the bottom where the charge site/button is. The button is a single push button that you hold to turn on/off and press to cycle through the settings.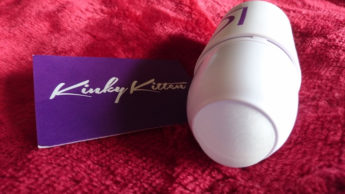 During my first use of the Klittra it became apparent that if you want to use the Klittra you have to have little to no pubes! I was sporting a rather large bush and even though I parted my labia and used the Klittra directly on my clit the edge of the roller ball where it met the casing was grabbing at my stray pubes and as they were getting trapped in there and it was yanking my pubes out. I barely realised until I lifted the Klittra up to change the setting and noticed blood on the roller. This blood was not my period (I don't get them) when I opened the Klittra up to clean it was full of my extracted pubes.
Feeling a little dishevelled but really wanting to give the Klittra of Sweden a fair chance, I took the plunge and shaved my bush off. I was able to use the Klittra easier not having to avoid my pubes. I also noticed the vibrations don't travel that well through the casing it's like they almost stay at the bottom part of the plastic where the motor/controls are.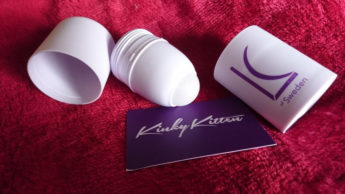 I did prefer the highest continual setting. The feeling of rolling the ball over my clit felt great and the lube was dispensed in bursts at I rolled. The only way I can describe the feeling is like someone gently licking your clit over and over. Now normally I'm not a tongues kinda gal more like a suction type when I receive oral. In fact I find it very hard to orgasm during orgasm my clit is just way too sensitive. Well anyway I did like this type of stimulation as it felt a lot less abrasive. The gap between the roller ball and the casing did not catch my clitoral hood which I thought it would have, turns out it just didn't like my pubes.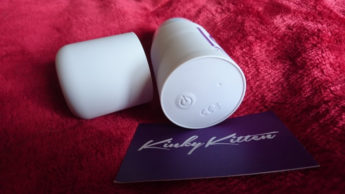 I do think the Klittra of Sweden is a great product it is definitely unique however if you do have any pubes it will grab at them and rip them out which is not something I would recommend at all.
Overall Rating
Appearance

Vibrations

Value For Money

Ease Of Use

Orgasm
Summary
That said I do recommend the Klittra of Sweden to those who like licky oral sex, those who want to try out this roll – on sex toy "trend", those who like mild vibrations, those who have no pubes and anyone looking for a unique vibrator.
RRP: £ 51.99

You can find The Klittra of Sweden at

Amazon.co.uk