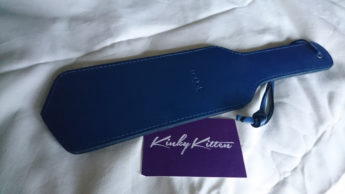 I received the Rouge Paddle in one of the #LubeAndALaptop goody bags that Latex Leather and Lace kindly put together for the event. The fact I received this product in my goody bag is not going to affect the outcome of this review. I thank Rouge Garments and Latex leather and Lace for giving me the chance to review the Rouge Paddle and I really think you guys should check them out. Latex Leather and Lace have a wonderful collection of pleasure shoes on their site which are to die for.
The Rouge Paddle I received is a lovely navy blue colour. It looks stunning. The Rouge Paddle also comes in: Black, Red, Pink, Purple and Brown. It is made from real leather which in itself turns me on not the leather but the smell, it is so intoxicating. This paddle is very firm it does have a little flexibility to it however it is mostly sturdy.
The Rouge Paddle features a flattened head which narrows into a slight point at the tip. It has a quite a wide handle that is long enough for larger hands to grip. It also comes with a safety strap that is secured at the base of the handle through a hole. This is also great for hanging it up for storage.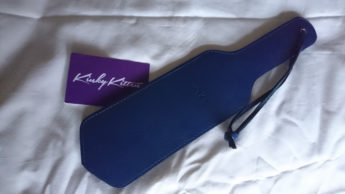 The quality of this paddle is amazing it is very well made and I am sure will withstand a great amount of spanking sessions without wear.
I would say this is probably a great impact item for beginners as it doesn't provide too much of a sharp impact. I find it easier to start off with a softer strike and then increase the intensity to build up to a comfortable level. I wouldn't recommend starting of full pelt and going in with full forced strikes I think that this paddle enables both receiver and user to use a gentler spread out force.
The shape also spreads out the impact. The Rouge paddle has quite a large surface area so when it does impact on flesh it is received as a more spread out thuddy feeling as opposed to a sharp sting a crop would make.
As far as the Rouge Paddle compares to others in my collection I do prefer this one over My Croc paddle from Ann summers and my Sex & Mischief XOXO paddle. I do think it is the best full Leather paddle I own.
During use I found the Rouge Paddle really gave me those vibrating spanks I adore. I really liked when Mr used it to spank the join between my legs and ass check the impact travelled right up to my vulva. I actually had some pretty amazing orgasms as the vibrations from the impact where traveling through my vaginal walls almost like a ripple.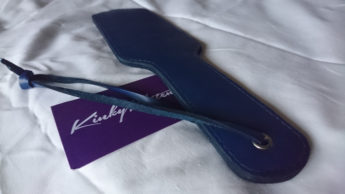 I also really liked how firm the Rouge Paddle is this meant I could also receive some sharper spanks when I was spanked with more force. The weight of the paddle is pretty hefty and it feels nice to hold the weight also give the person using it more control and grip.
I really enjoy this paddle and I am so glad it was in my Goody bag! I have nothing but great things to say about it. It does what it says on the tin and it does it well. The quality is amazing it is very well made. Not only does the lovely blue colour look stunning against all my black/red bondage items but it is also a really great paddle.
Overall Rating
Appearance

Impact

Build Quality

Ease Of Use

Value For Money
Summary
I would recommend the Rouge Paddle to anyone who is looking for a great quality leather paddle, those who are new to impact play, those that want a paddle that comes in various colour options. And finally those that want a firm heavy paddle.
RRP: £ 31.99