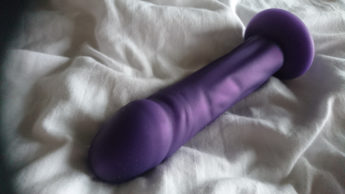 I received the Tantus Vamp Super Soft free of charge in exchange for my honest review for Tantus. The fact I was given the Vamp Super Soft for free is not going to affect the outcome of my review. As you guys will already know Tantus are an amazing sex positive company who create amazing silicone sex toys I highly recommend checking them out.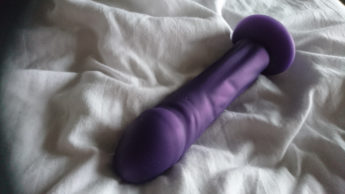 Tantus have started making dildos that are now "Super Soft" these are made from a softer silicone than the traditional Tantus silicone and the textures are softer too.
I had been lusting after the Tantus Vamp for a while so when they released the Vamp Super Soft I just needed to try it! The Vamp Super Soft is a matte finish so like my other Tantus toys it requires a bucket load of lube.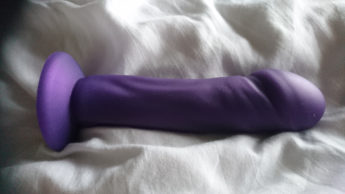 The Tantus Vamp Super Soft I have is the purple one it also comes in a lovely burnt orange colour too. It is 7 inches in length with a maximum diameter of 1.75 inches. The Vamp Super Soft has a flared base which is great for anal use and also great for pegging. It also has a semi-realistic look which is great for beginners or those who don't like phallic looking dildos.
The Tantus Vamp Super Soft is definitely made from a softer more pliable silicone than the iconic firm silicone my original Tantus dildos have like the Tantus Anaconda Handle. It is that soft I am able to bend it back on itself until it touches its base.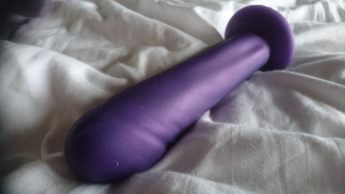 The head is very girthy and you can definitely feel the pop when it enters you. The shaft does get thinner towards the base.
Along the shaft are very faint veins almost like the whole texture of this dildo has been kind of blurred to give it a soft look and feel. The original Vamp has distinctive veins and the head is more is a little deeper set.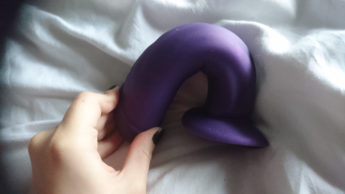 During use I find I can use the Tantus Vamp Super Soft without any warms up it is a big dildo but not too big that you need to warm up with other dildos beforehand.
It does eat lube so I used plenty. I particularly enjoy the pop the head gives as it slides in. The body of the dildo just follows.
The head is big enough and firm enough that when placed correctly it does brush up against my G spot for added stimulation. I prefer fast shallow thrusts as opposed to deep slow thrusts with the Tantus Vamp Super Soft this is because of the softness of the silicone and also the fact it stimulates my G spot better when I use it this way.
Overall I really love the new Super Soft silicone and I know Tantus are making some of their other dildos in the same Super Soft formula too which is super exciting.
Overall Rating
Appearance

Squish

Length

Girth

Texture

Orgasm
Summary
I would recommend the Tantus Vamp Super Soft to anyone who wants a softer silicone dildo, those who prefer a large head on dildos, those who want a semi realistic dildo and those who are looking for a great G spot dildo that isn't too hard.
RRP: £ 54.08

You can find The Tantus Vamp Super Soft at

Tantus.com