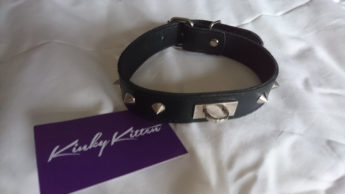 I received the Rouge O-Ring Studded Collar in my #LubeAndALaptop goody bag. These bags where made up by various products the Rouge O-Ring Studded Collar was kindly given to Latex Leather and Lace for us bloggers from Rouge Garments. The fact I received this collar free of charge is not going to affect the outcome of this review. I really do recommend checking out both Rouge Garments and Latex Leather and Lace they are both amazing companies.
The Rouge O-Ring Studded Collar I received was black in colour. It also comes in: Red, Pink, Blue, Purple and Brown just like the Rouge Paddle you can get your Collar to match your paddle if you wanted.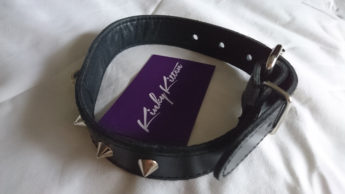 I was wearing a black dress to LubeAndALaptop I did also have a choker on so I decided to take it off and wear the Rouge O-Ring Studded Collar instead. It looked amazing and totally suited my aesthetic that day.
I went the whole day wearing this collar I mean literally! I wore it to get drink and even to Maccy D's on the way home. I was very impressed with how comfortable it was. I admit Collars weren't my usual kink. However I received one to review a while back and now and I found I did have a collar kink. So when I saw this collar was in my bag I was so excited.
I had comments all day from almost everyone at #LubeAndALaptop on how well it looked and that it suited me. Most had no idea I just popped it on whilst I was there, I explained to them it was in the goody bag and laughed.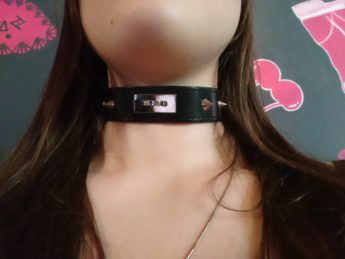 The O-Ring I eventually took off partway through the day as it was flapping about. This is great for attaching to a lead/leash however I was totally loving the fact I could wear it in public so I didn't initially need to use the O-Ring. It also feels really lightweight the studs and O-ring really don't add much weight to the collar which makes wearing it for long periods comfortable.
Emmeline Peaches made a lovely comment about it to another blogger during our conversation. I think it was something along the lines of "she wears it well" I literally melted at the moment in time! I was a little anxious at the LubeAndALaptop event and didn't manage to talk to people like I would've liked to however the Rouge O-Ring Studded Collar became a talking point/ ice breaker. I definitely felt more confident with it on.
So this has become a bit of a write up of the day/review but meh I had an amazing time and I wanted to share my personal experience with you guys.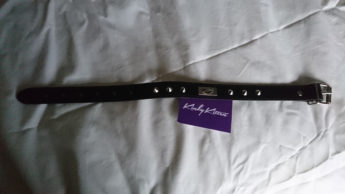 The Rouge O-Ring Studded Collar has 6 spikes three either side of the O-ring. It also has a buckled back with quite a few holes to adjust the size. I had it on the tightest hole and there was still a lot of room. During use I found it to be a lot more comfy than it looks I was able to wear it for several hours without getting irritated or it marking me.
Overall I think that the Rouge O-Ring Studded Collar is great quality, it looks stunning and it could easily be worn out and about in public. I found it extremely comfy and I love the fact it comes in the same colour options as the Rouge Paddle so you can match your whole bondage collection.
Overall Rating
Appearance

Comfort

Ease Of Use

Build Quality

Overall Experience
Summary
I would recommend the O-Ring Studded Collar to anyone looking for a great quality bondage collar, anyone who wants a collar that has an O-Ring attachment. Anyone who wants a collar they can wear for long periods of time without causing discomfort and anyone who wants a collar they can wear out as a choker.
RRP: £ 29.99