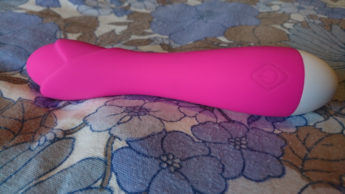 I received the So Divine 'Ooh La La' Vibrator free of charge in exchange for my honest review for So Divine. I have previously reviewed some of the products they sell and so far things are looking really hopeful for this little company. The fact I was given this vibrator free of charge is not going to affect the outcome of this review.
The So Divine 'Ooh La La' Vibrator is made from 100% silicone. It is also waterproof and rechargeable with a 2 hour play time.  The So Divine 'Ooh La La' Vibrator has 10 vibration settings 7 of which are pulsation, inclining and declining modes the other 3 are continuous vibration modes that consist of; Low, Med and High.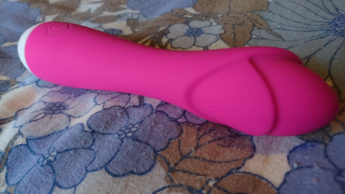 To activate the vibrations you simply press the power button at the base of the vibrator and hold it for 3 seconds, you then press the same button to cycle through each mode. To turn it back of just hold down the button for 3 seconds.
The packaging the So Divine 'Ooh La La' Vibrator comes in is the same minimalistic packaging that I have seen consistent throughout the So Divine range. It has a window on one side, where you can see your vibrator. The instructions and how to use your vibrator are written under the window on the box. On the other side of the box is a picture of the vibrator.
The shaft of this vibrator is, thin it then forms into a bulbous tip which has a rose petal like detailing. This texture can be felt during use so it doesn't feel like you are using any regular internal vibrator. It has a great feel which pushes right against my G Spot. My G Spot is fond of the texture too so that's a bonus.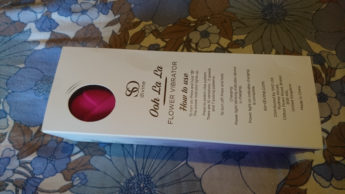 The So Divine 'Ooh La La' Vibrator is rechargeable and comes with a magnetic USB charger wire tust just clips to the two metal pins on the back of the vibrator. It is also 100% waterproof so you can also take it in the bath or shower and give it a good scrub without worrying that it will get broken. The Silicone is a smooth matte feeling silicone that doesn't attract too much lint it feels smooth to the touch during use.
I love the fact it is rechargeable as most thin insertable vibrators around this price range are not. The So Divine 'Ooh La La' Vibrator could easily double as a G Spot vibe and a clit vibe. I preferred to use it on the highest continuous setting for internal vibrations and the lowest continuous setting for a clit stim.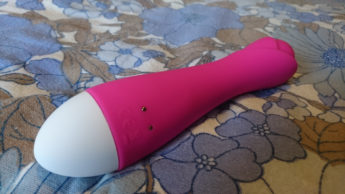 I do like how the petal detailing has texture I found I best feel it when I used a side to side motion across my G spot. Alternatively using small, shallow and slow strokes the texture can be felt even better.
I am very happy with the So Divine 'Ooh La La' Vibrator and how it has performed and So Divine haven't let me down as of yet.
Overall Rating
Appearance

Vibrations

Value For Money

Texture

Ease Of Use

Orgasm
Summary
I would recommend the So Divine 'Ooh La La' Vibrator to anyone who wants a vibrator they can use as a clitoral vibe and an internal vibrator, Those who like texture, those who want a rechargeable vibrator that is also affordable and those who are new to sextoys I think the pretty design and how easy it is to use are great for beginners.
RRP: £ 34.99

You can find the So Divine 'Ooh La La' Vibrator at

So-divine.com