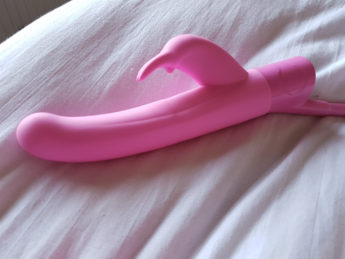 I was given the Rosy Bunny Inflatable Rabbit Vibrator free of charge in exchange for my honest review for Bondara. If you don't already know Bondara are an amazingly affordable company who give you the best deals on some of the leading sextoys available. I highly recommend checking them out I have purchased from them a few times even before I had my blog. The fact I was given the Rosy Bunny Inflatable Vibrator free of charge is not going to affect the outcome of this review.
The thought of a vibrator that can be altered to accommodate my needs in girth is amazing. When I received the Rosy Bunny Inflatable Rabbit Vibrator in the post I was eager to see how it worked.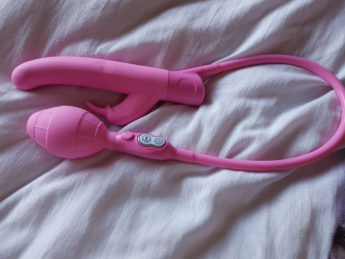 I also think this would really be a great sex toy for people who have a Balloon fetish/Looners although technically they don't want to have sex with a balloon more so pop them or squeak them to get aroused. I still think this is a great idea.
The Rosy Bunny Inflatable Rabbit Vibrator is your classic Rabbit vibrator shape with the internal shaft coming to a little curve on the tip. The Ears are flexible so can be adjusted to the user's clit, they are also not pointed or pokey. This rabbit is attached to a tube from the base this connects to a pump the pump when pressed inflates the shaft of the rabbit. The pump also has a release button which when held in deflates the shaft with a nice "hissssss" sound.
The Rosy Bunny Inflatable Rabbit Vibrator is made from silicone and ABS plastic the silicone is the rabbit vibrator this has an ABS plastic base. This vibrator does require batteries and takes 2 AAA's. It also has 7 vibration settings 3 consistent ones that are low, high and medium and the other 5 are pulsation, inclining and declining modes.
The buttons to control this vibrator are attached to the pump which is great as you don't have to fiddle around your nether regions to find buttons. The pump button display acts as a sort of "remote control" so you could pass the pump attached to the rabbit to your partner to control the inflation and vibrations too which is cool.
If there was a prize for the strangest vibrator I own the Rosy Bunny Inflatable Rabbit Vibrator would definitely be crowned winner. Its unusual aesthetic and quirky function are the reason I like it. It has two motors one in the shaft and one in the clitoral stimulator.
Initial insertion for me was ok it just felt like any other rabbit vibrator. Once I had turned the power on and got ready for more girth I squeezed the pump all the way and the feeling of the shaft inflating inside me was strangely satisfying. I can only explain this feeling like someone was blowing up a balloon that was in my vagina! The fullness was great it didn't feel ridged like most large toys I guess it's because it is full of air so thus is lightweight.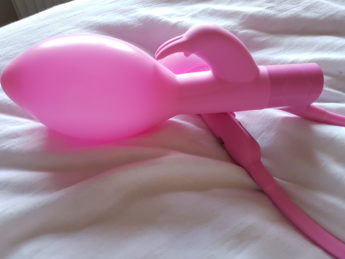 I have been able to use the Rosy Bunny Inflatable Rabbit Vibrator pumped up to 4 pumps of girth, I have no idea how large that is but it's definitely filling. It is also great to release the inflation after orgasm it lets my vaginal convulsions carry on without being irritated by a huge object in my vag.
I do prefer to use this vibrator on the highest continuous setting as I do most battery operated vibrators. I have been able to orgasm easily using this vibrator as far as vibrations go I get enough from the ears alone however the shaft also vibrates pretty great too, some vibrations are lost the more it is inflated I guess that's due to the silicone not coming in contact with the plastic "skellington" of the vibrator enough to transfer vibrations as well.
Overall I am pleasantly surprised as to how well I did like the Rosy Bunny Inflatable Rabbit Vibrator I think it is a great concept and there definitely is a market for a toy like this.
Overall Rating
Appearance

Girth

Value For Money

Vibrations

Shape

Ease Of Use
Summary
I would recommend the Rosy Bunny Inflatable Rabbit Vibrator to anyone who wants variable girth in a vibrator, Those who want an Inflatable SexToy, Those who love Girth (this vibe can get pretty huge!) and I also recommend it to Looners although it's not balloon it does very much feel like it when used.
RRP: £ 37.99

You can find the Rosy Bunny Inflatable Rabbit Vibrator at

Bondara.co.uk