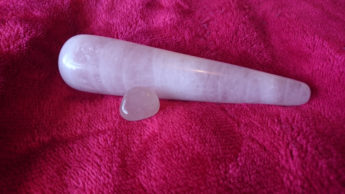 I received the Rose Quartz Massage Wand free of charge in exchange for my honest review for LoveYourLifeBoutique. The fact I was given the Rose Quartz massage Wands free of charge as always will not affect my review. I reached out to LoveYourLifeBoutique to ask them if I could review one of their Crystal Wands.
I have been more in touch with precious stones this year and I love the benefits of using them. I have a mix of Blue Lace Agate, Citrine, Lapis Lazuli, and Quantum Quattro which I keep in a pouch in my handbag to manage my Thyroid symptoms. I also have a Rose Quartz stone that I acquired when I was around 7 years old at a church it drew me in and I had to buy it I've kept it ever since. I also have recently purchased a Lavender Jade pendant which is in the shape of Kuan Yin I purchased this because I was getting quite a few pains in my ovary area , when I wear it my symptoms are relieved. I also have an onyx stone which I use as a worry stone.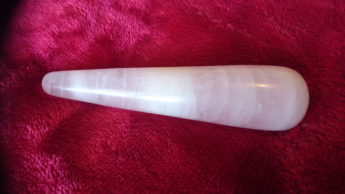 So when I found out I could get Massage Wands/Dildos that are made from Crystals I just had to see if I could review one, it was almost like my personal self and blog self became one when I found that these massage wands where available. Now LoveYourLifeBoutique also make some lovely Yoni eggs, the Red Jasper and Green Jade eggs look stunning and I bet they work well in practice too.
I was asked which size I wanted as they do a small and larger Wand, the one I got was the 6.7 inch version. I also go to pick which Crystal it was made from; Blue Point Stone Agate, Black Obsidian or Rose Quartz. I chose Rose Quartz partly because it's a stone I know well and am familiar with and partly because it promotes bonding, it's also a love stone that promotes love and sensuality, and it is also a good sleeping aid. Rose Quartz has a calming energy which relives stress too all of these aspects make it the perfect Crystal to have a wand made out of.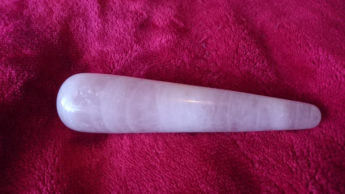 Each Massage Wand is hand made through a process that consists of cutting and sanding the crystal shaping it into a Wand. LoveYourLifeBoutique use traditional methods and no chemicals are involved in the making of each Massage Wand.
When my Rose Quartz Massage Wand arrived I honestly was shocked at how stunning it is. I knew it would be fabulous to look at but you can see each colour/shade change and that powder pink colour almost glistens in the sunlight. My Rose Quartz Massage Wand is very smooth with no imperfections, it is expertly shaped it's just such a beautiful shape and colour.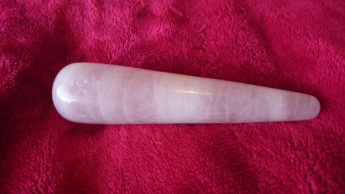 The base of the Rose Quartz Massage Wand is quite thick and has a rounded end. This tapers to a very thin end this shape helps with insertion as you work up to the girth of the Rose Quartz Massage Wand it can also be used from the thickest end to the thinnest inserting the thickest end will give you more girth to start with.
I have found that if I am stressed I do usually masturbate to relieve that stress, it is one of the most natural stress relief available. Using my Rose Quartz massage Wand adds to that experience each time I have used it I do so and feel an intense burst of self-love after each session. I feel content, stress free and bursting with positive energy.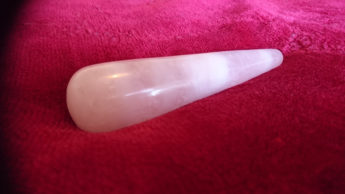 The tapered tip of the wand makes for easy insertion it does graduate in girth towards the bottom with feels great. The weight of the Rose Quartz Massage Wand is unlike anything else I have used it is so heavy and just feels incredible. The Rose Quartz Massage Wand also feels quite cool when first used at room temperature this feels amazing the cold sensation is quite erotic, it then warms up to body temperature.
The Rose Quartz Massage wand is easy to keep clean you can sterilize it with care not to move it from one extreme temperature to another as it may cause it to crack or break. You can then wash it with soap (gentle/none fragranced) and water I am very impressed with the LoveYourLifeBoutique because they stress the importance of using non fragranced soap as it may affect the ph levels in your body and cause infection so huge bonus points for that!
Overall Rating
Appearance

Shape

Ease Of Use

Value For Money

Overall Experience

Orgasm
Summary
Overall I have enjoyed each time I have used my Rose Quartz Crystal Massage Wand and I really highly recommend it for women who are wanting to explore Healing Crystals and the benefits of using them, I also recommend it for those who use masturbation as a stress relief or meditation using this wand really adds more for me with its positive energy. I also recommend it to those who want a heavy dildo. And also those who want a dildo they can display this is very discreet and is so beautiful it deserves to be on display.
RRP: £ 53.86