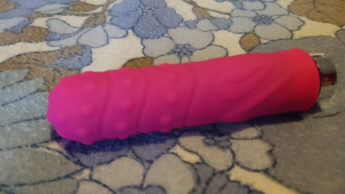 I received the So Devine Je T'Aime Silky Touch Vibrator free of charge in exchange for my honest review for So Divine along with a few other products from them so feel free to check out some of the other products I have reviewed for them. So Devine are a relatively new company who offer a range of women's and men's sex toys at affordable prices. The packaging is very simple and you can in most packages visibly see the product you have purchased.
The So Devine Je T'Aime Silky Touch Vibrator is a large bullet/small internal vibrator that has a hunk of texture. I have never seen this amount of texture eon a vibrator before, on a dildo yes but not on a vibrator. I think that it is fantastic as it enables texture lovers to have a great vibrator. The texture which consists of hearts and nobbles is on a silicone removable sleeve. Inside the sleeve is an abs bullet that can be used with or without the sleeve.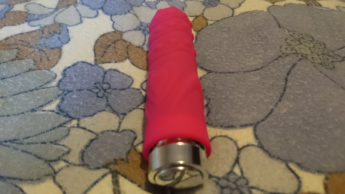 The So Devine Je T'Aime Silky Touch Vibrator is waterproof and has 10 vibration settings 3 continuous (low, medium and high) and the rest are inclining, declining and pulsation modes all of which are controlled by a singular push button in the base. You press the button once and it will start the vibrations on the lowest continuous setting you can then press again and again to cycle through the vibration settings and then you press and hold the button for three seconds to turn it off.
This is a battery powered vibrator and it does take 1 AAA battery, one is supplied with the product when your purchase it so it is ready to use.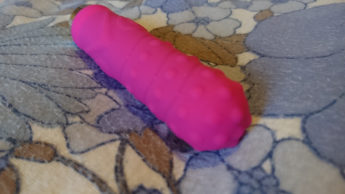 I found the So Devine Je T'Aime Silky Touch Vibrator really worked for me, my clit really loved the textures on this vibe. There are not many textured clitoral stimulators out there so bonus points for that. As an insertable vibe I found this was big enough to use vaginally and also small enough to use as a bullet it's like a mid-range bullet vibe. The textures feel even better internally and I especially love the nobbly bits at the tip.
I do have to say this is a little powerful fella for a lower market vibrator however there is quite a volume of sound that erects from this vibrator during use. It is not the quietest vibrator I own. The texture almost makes up for then noise in this case, I just thought it was worth a mention.
Overall Rating
Appearance

Texture

Value For Money

Vibrations

Orgasm
Summary
Overall the texture was amazing I found I was able to orgasm multiple times using the Medium-Highest continuous settings. I am very happy to recommend this vibrator to my fellow Texture lovers. I also recommend it to those who wand either a larger bullet vibe or a smaller vaginal vibrator. It is a perfect vibrator for those with a low budget as it has multiple uses and can be used with or without the textured sleeve.
RRP: £ 15.99

You can find the So Devine Je T'Aime Silky Touch Vibrator at

So-divine.com