Yes! You heard that right this vibrator is in the shape of the eggplant emoji that is usually used in relation to a penis. So when I caught wind of Emojibator I just had to review one. I was sent the Emojibator free of charge in exchange for my honest review, the fact I was given the Emojibator for free is not going to affect the outcome of this review. In addition the eggplant Emojibator you can also get the Chilli pepper Emojibator.
T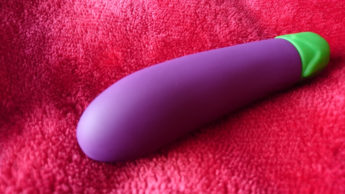 he Emojibator is quite small and I would say is a large sized bullet vibe or a smaller internal vibe. The Emojibator is made from silicone and is also waterproof which ticks all the boxes for me. It is however battery operated and takes 3 button batteries which are included.
The Emojibator has 10 vibration settings three of which are continuous vibration settings which consist of low, medium and high and the other 7 are inclining ,declining and pulsation settings. I prefer to use it on the continuous medium or high setting.
The Emojibator website is full of whit. On the product page of the Emojibator they say that the Emojibator has a "Healthy serving of vitamin D". These jokes are continuous throughout the packaging of the product. I was also lucky enough to be sent the Emojibator travel case and inside the top of the case it has "GO F*CK YOURSELF, LITTERALLY" written followed by the eggplant Emoji. I personally love this it goes very well with the whole Emoji approach to a novelty vibrator.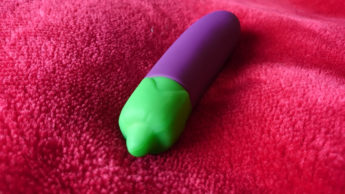 I think the Emojibator is a very good novelty gift for someone looking to buy a vibrator for a friend. It also appeals more towards to younger market. Usually I get these very sophisticated, posh vibrators that cost a fortune marketed to middle aged women. This vibrator is affordable and is also quirky and that's what I love. I am very into unusual quirky vibrators/sextoys so the Emojibator does appeal to both those who like unusual vibrators and the younger market.
The Travel case is very sturdy and well worth purchasing in my opinion it has a hard shell and a zipper to shut it. It looks like a glasses case when closed and there isn't any indication as to what's inside, there is no wording or pictures on the outside of the case. This is perfect for those who need privacy when storing sextoys.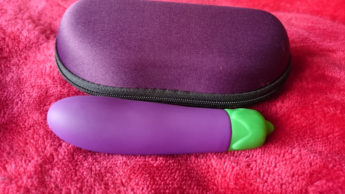 The soft silicone of the Emojibator means it is a pleasure to use. To turn it on you simply press the stalk down and then again cycle through the settings to turn it off just continue to press the stalk so that it stops vibrating. The button is easy to navigate, once you have cycled through all of the vibration settings the next time you press it then turns off to turn on you just press again to start the vibrations.
I have used the Emojibator a few times now and I have been able to come to a very good climax quite quickly. The vibrations travel through the silicone really well and I also like to use this to dip inside my vagina. It is really easy to switch between using it as a clitoral vibe and then switch to penetration. It is small enough that it isn't too much penetration. Which is great for those who like shallower penetration when masturbating.
Overall Rating
Appearance

Vibrations

Value For Money

Ease Of Use

Orgasm
Summary
Overall I really love the Emojibator it is really quirky and just a fun vibrator to have. I recommend it to those who like me love quirky sextoys. Those who want a small insertable vibrator. I also recommend it to those who are new to sextoys, it isn't shaped like a huge cock which can be intimidating for newbies.
RRP: £ 22.37

You can find the Emojibator at

Emojibator.com