We have received the following masturbator from Tenga for an honest review, there are two masturbators which have been reviewed in separate articles. We are about to review the Air-Tech TWIST Tickle.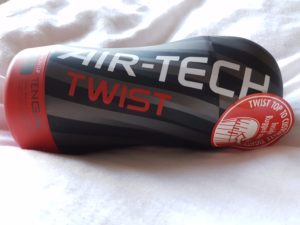 The Air-Tech Twist Tickle is known for it's following red packaging with it's counterpart being in blue which would be the Air-Tech Twist Ripple. The following masturabtors are re-usable and have some unique functions which not other companies are using in masturbators, hence the name "Twist" is used to aim for a different market. As we go through these reviews we will be looking into the uniqueness of the masturbator and to see if they live up to their names and give me that feeling im looking for when using a masturbator.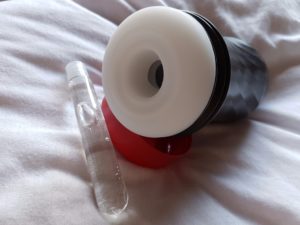 Both masturbators come with their own lube pack and their own style of sleeve. The tickle's sleeve was more like a cactus more than anything and looks like the inside of very dangerous blender with soft edges instead of razor sharp blades. The twist has more than just one setting as you are able to lock the twist into several positions making it as tight or loose as you desire, this feature gives us the opportunity to take control over the tightness of the sleeve it self which can be more pleasurable and less painful.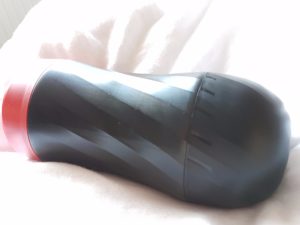 When i opened up the masturbator i thought to my self that i would have to review this with the following lube provided as it's a part of the masturbator it self, when checking out the lube i noticed that it was really sticky and stringy which was kind of a turn off really. This was due to my hands being covered in slime and having to wash them before using the masturbator which can be a huge turn off when you are in the mood. As you can tell this would apply to both masturbators as the lube is included in both packages, though the lube maybe terrible it doesn't mean that i didn't think it was a bad idea to include the lube into the product itself. In fact it's actually a good idea because people will more likely use a lube which is included due to them feeling that it's less likely to have a chemical reaction to the sleeve and causing any damage to their new masturbator which can be a huge frustration!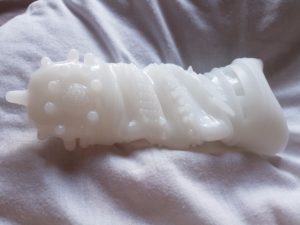 The tickle didn't quite live up to it's blue counterpart as it failed to give me the pleasure i was looking for, with that said this is still a good product. The reason for this being negative is more down to the design of the sleeve than anything else, when using the masturbator i noticed a slight discomfort when using it on a high twist setting, but when turning it down it didn't seem to fade away like it's ripple counterpart. When turning down the setting it still felt like there was a tightness there wich was giving some slight discomfort and was a struggle to use for some time, after some relaxing the pleasure came back and i did manage to finish up. After the session had finished it was then time to move onto cleaning the sleeve itself, this was not a hard task to do at all as the sleeve can be simply removed from the container and rinsed off and cleaned thoroughly.
If you would like to check out the Air-Tech Twist Ripple review then

CLICK HERE
Texture

Suction

Re-Usability

Cleanliness

Comfort

Ease of Use

Value for Money
Summary
Although the tickles blue counterpart took the lead and won over my desire, this doesn't mean that this product isn't worth it's purchase. The sleeve may have been a down for me but can still be a different experience for others which should really be taken into consideration. Overall i still think that both are worth the purchase, it's your decision which you choose to go with.
RRP: £ 34.99
You can find The TENGA Air-Tech Twist Ripple at

LoveHoney.co.uk