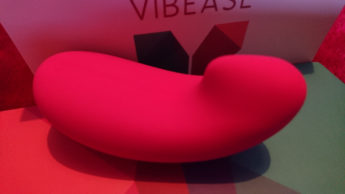 I was given the Vibease free of charge in exchange for my honest review for Vibease. The fact I was given the Vibease free of charge is not going to affect the outcome of this review. I have to admit before I was in contact with Vibease I had heard of them and a few other bloggers had reviewed the Vibease. So I was excited to try this little fella out for myself.
Vibease have created an app controlled vibrator that can sync up with your phone and vibrate as you are being read an audio book. You can also use the Vibease in a video chat which is great for long distance relationships. Your partner can control the vibrations from their end whilst you wear the Vibease vibrator and surrender to them controlling the vibration intensities and rhythms.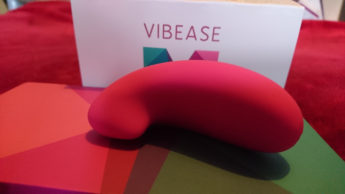 The Vibease is waterproof and made from 100% silicone. It is wearable so you can also use this as a wearable vibrator without using the app. The Vibease also comes with a USB charge cable with a prong on the other end that is inserted into the base of the Vibease to charge it. The Vibease wireless and it does connect to the app via Bluetooth.
The app itself is very easy to download, I downloaded it from the Android app store by typing in "Vibease". I found the app very easy to navigate and I just kind of found my way around it easily. It is also very professional looking and extremely responsive. Connecting the Vibease to the app was also very easy. I just pressed the little picture of the Vibease vibrator and then pressed connect making sure the Vibease was off. It then connects to the device after you hold the on button for 5 seconds.
T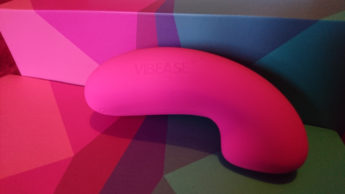 he Vibease is easy to wear I just simply placed it on my vulva with the little nib just inside my vagina it did a great job so staying put and not budging during use. I love how small the nib is as I tend to use clitoral stimulation the most and the nib is just perfect for anyone not wanting a big penetration prong like most wearable vibrators have. I also have to comment on how well the device connects to the app I have never had the Vibease disconnect and have to connect it again unlike most of the App controlled vibrators I have tried in the past.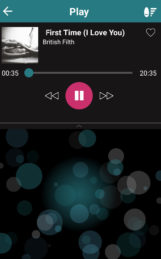 Once connected the Vibease will automatically be connected to your Audio book. The Audio books you can choose from vary with some of them costing credits and some being free, I downloaded a load of free ones. So I picked out a Vampire based book to start with "Be my vampire queen" This started off ok the Vibease started to vibrate and change settings throughout the book however I just found the book a little hard to get into the voiceover just didn't get me going as such.
I then decided I wouldn't completely dismiss this vibrator and I picked out another book "Our first time (I Love You)" this book was told by a man with a very charming British accent. It started off quite cheesy as a self-recorded love note thing, however it then got quite interesting. I started to feel more like I was getting aroused. As soon as it got to the blowjob scene that did it for me, I had a great orgasm. However I decided to see the rest of the story through having 5 more orgasms. Which is impressive.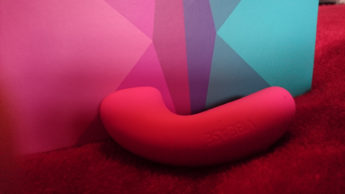 I have also used the Vibease alone without the app and It has 2 speeds that are continuous these are Low and High it also has another 3 pulsation and rhythm modes. You hold the power button to turn it on for 2 seconds, it will vibrate twice to let you know it's on. You then press the wave looking button to cycle through the settings, if you press it 6 times it turns the vibrations off to start again. You can also hold the power button for 2 seconds to turn it back off again. The Vibease has nice and simple controls.
I can say I am very impressed with the Vibease at first glance I wasn't expecting much from this little guy however I was pleasantly surprised with how it actually preformed with and without the app I was able to have quite a few orgasms.
Overall Rating
Appearance

Shape

Comfort

Vibrations

Value For Money

Ease Of Use

Orgasm
Summary
I really recommend the Vibease to anyone who likes erotic audio books. Those who want an app controlled vibrator for long distance relationships. Those who want a wearable vibrator that doesn't have to be inserted into the vagina this one actually just sits inside the vaginal entrance. It is just an overall great little vibrator. I would also recommend it to those who want a great quality, powerful clitoral vibrator.
RRP: £ 77.14

You can find The Vibease at

Vibease.com