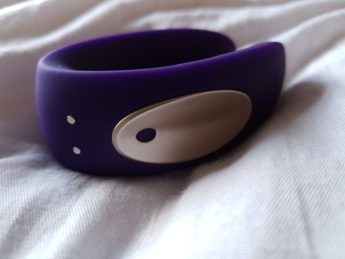 I was given the Satisfyer Partner Plus couples vibrator free of charge in exchange for my honest review for Bondara. If you are new here and haven't heard of Bondara they are an amazingly affordable company who offer good quality sex toys for the mid-low price range. I have previously reviewed for them feel free to check out my previous reviews.
The Satisfyer Partner plus is a couples vibrator that is inserted into the vagina to be used during penetrative sex. This vibrator has two "prongs" the first prong has a button on the top this is the one that is to be used outside the body as a clitoral arm.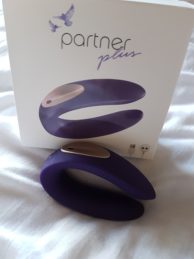 The other prong is more flattened and is to be inserted into the vagina. Both arms are extremely flexible you can almost flatten the whole thing out. This is great because everyone has different shaped vulvas so it can be bent to fit you.
The satisfier Partner plus is made from 100% silicone with a plastic button. It has 10 settings three if which are continuous vibrations that consist of low, medium and high and the other 7 are pulsation and inclining modes. It also comes with a magnetic charger that sticks to the two metal pimples where the two prongs join, just on the curve.
During use I found the Satisfyer Partner Plus really comfortable. I prefer to use it alone first as a warm up. This is great because when it comes to finishing up I am able to climax as Mr does because we all know how much foreplay is needed this little vibe just helps things along.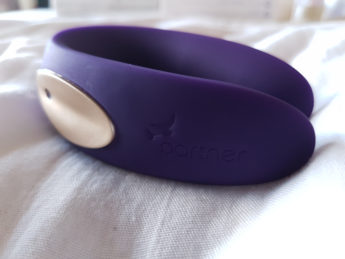 I found that whilst Mr was thrusting it did stay in place and with the prongs being very flexible they didn't feel like they were digging into me or Mr unlike the We vibe 4 plus which was horrendous.
The vibrations where amazing I preferred the highest continuous setting. It also enables me to have more precise G spot stimulation during penetration.
I am extremely happy with how the Partner Plus preformed, it is way better than the previous higher end couples vibrators I have used and I can see it slowly becoming my favourite.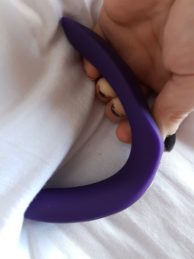 I honestly think that this is the best couples vibrator we have tried and I am really impressed with how satisfyer have continued to stick with bringing more afforable vibrators that have the same effect as high end ones to the lower budget market.
I owe a huge thank you to Bondara for sending me this along with a huge pile of other products to review. They have not held off on sending me products to review and I am very greatful I have had the chance to review this amazing vibrator.
Overall Rating
Appearance

Value For Money

Vibrations

Shape

Ease Of Use

Orgasm
Summary
I am happy to recommend that if you are looking for a couple's vibrator you seriously get this one. Not only is it the cheapest one I have seen available but it preforms better that ones I have tried that cost £££'s so you are getting great value for money here. I also recommend it for use as a singles vibrator is can be used solo and for warm up before penetration. I really do think it is a great wearable vibrator so those who are looking for a wearable vibrator this is a fantastic one.
RRP: £ 54.99
You can find The Satisfyer Partner Plus at

Bondara.co.uk