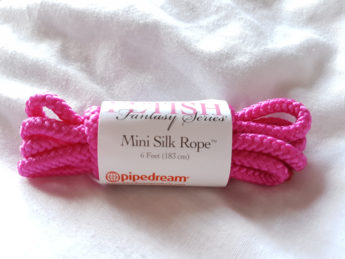 I was given the Fetish Fantasy Mini Silk Rope in exchange for my honest review for Adultshopit I have previously reviewed for them. They are a UK based company that offer a range of sex toys and sexual aids at a very affordable price. The fact I was given this rope free of charge is not going to affect the outcome of this review.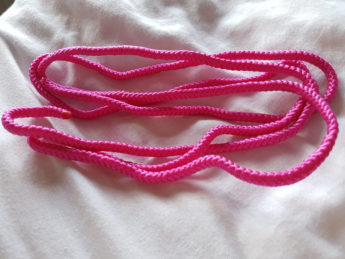 The Fetish Fantasy Mini Silk Rope comes in four colours; Pink, Black, Red and Purple. I was given this pink one this is an almost florescent pink. It is 1.8 meters long which means it's very small and compact which is ideal to take on your travels. It is made from Japanese silk rope to provide maximum amount of comfort.
The Fetish Fantasy Mini Silk Rope is enough to tie a partner's wrists or ankles. Because it is a mini rope and isn't that long you are limited as to what you can bind together say ankles and wrists together would be difficult as you would run out of rope. However it is small enough to tie wrists to a bedpost or both ankles together.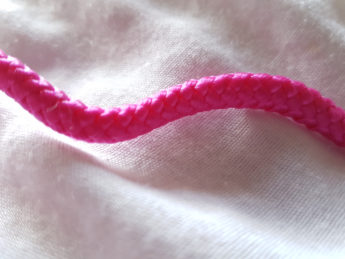 When I was testing this rope I decided it was easiest used as a wrist restraint so we bound my wrists. The rope was soft enough not to feel harsh on my skin/ after having the rope on my wrists for a while and doing various activities I found as I moved about more the ropes felt a little more coarse on my skin and I got a more chafed feeling from it. I was able to be restrained without being able to wiggle my way out of them which means they are effective.
I do also really like the pink colour it's very vibrant and very feminine which is what I am all about. I would easily be able to get away with keeping it in my handbag to use for a quickie.
Overall Rating
Appearance

Texture

Length

Comfort
Summary
I found using this rope was pretty easy and it is very versatile so I would be glad to recommend it to beginners as it is colourful and non-intimidating. It is also small and able to be used whilst travelling. I also think it is reasonably priced so it is great for those who are on a budget.
RRP: £ 5.99
You can find The Fetish Fantasy Mini Silk Rope at

Adultshopit.co.uk