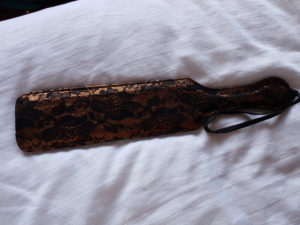 I was given the Burnt Embers Luxury Paddle in exchange for my honest review for Bondara. I have previously reviewed the Collar and Leash, Tickler Crop Duo and the Bondage Restraint Bar for them. Bondara are a great company that offer great products at affordable prices and I really recommend you check them out. The fact I was given this paddle free of charge is not going to affect the outcome of this review.
The Burnt Embers Luxury Paddle is covered on the one side in beautiful bronze fabric that has the black lace overlay like the rest of the Burnt Embers Range. Seriously this paddle is stunning I thought the Collar was beautiful but damn this thing is pretty! The other side features a black faux leather which is very good for giving sharp spanks!
This paddle is not only good looks it actually packs a bit of a punch too. During use the detailed side feels very padded and makes for a softer, thuddy, cushioned impact whereas the Faux Leather side of the Burnt Embers Luxury Paddle gave me a more sharp stingy impact. It is safe to say this paddle leaves pretty marks too!
The Burnt Embers Luxury Paddle also features a safety strap which is pretty standard amongst paddles and when secured around the wrist they come in handy saving the paddle from flying across the room if ever you lose your grip.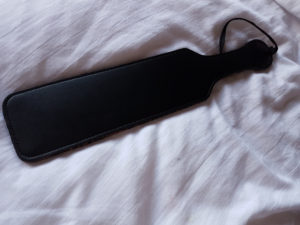 I love the fact you can use both sides to alternate between a different impact type and the fact this paddle is just so stunning! I have tried to be as unbiased as I can with these burnt embers reviews but so far I am loving the whole range. Everything I have reviewed is not only stunning to look at but they are all built really well and do the job they are supposed to really well too.
I am struggling to say a bad thing at all about the Burnt Embers Luxury Paddle. I am really impressed with how well it provides those spread out spanks I love. The fact it has two sides which can be alternated during use to provide different sensations is great! This builds the anticipation up and leaves me wandering if the next hit is going to be Stingy or Thuddy.
Overall Rating
Appearance

Impact

Build Quality

Ease Of Use

Value For Money
Summary
I very highly recommend the Burnt Embers Luxury Paddle to anyone who wants a Bondage paddle. To those that want more feminine bondage items or those that like me just love how pretty the Burnt Embers range is. I also recommend it to anyone who is a beginner or looking for something that can act as a two in one type impact toy.
RRP: £ 19.99

You can find The Burnt Embers Luxury Paddle at

Bondara.co.uk