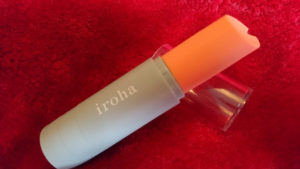 I was given the Iroha Stick free of charge in exchange for my honest review for Iroha. The fact I was given the Iroha Stick free of charge is not going to affect the outcome of this review. I have previously reviewed for Iroha you can check out my review of the Iroha Kushi here.
When I found out Iroha was releasing a new clitoral vibrator I just had to get it to review. I mean the quality in their Vibrators is amazing and they have a squish like no other! The Iroha Stick is a small clitoral vibrator that somewhat resembles a lipstick It is designed to be discreet and that is exactly what it is. You could easily pop it into your hand bag whilst you're on your travels.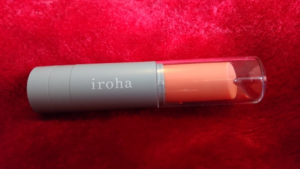 The Iroha Stick requires one AAA battery to power it. The vibration is started by twisting the bottom on the vibrator this dial type of control makes it hard to distinguish which level the vibration is on however there is a good amount of variation of speed settings.
The Iroha stick is made from Abs plastic with a  lovely coral pink lipstick bullet This has an indentation/slit in the tip which can act as rabbit ears these are really flexible, The concave tip is also great at providing a more spread out vibration. The silicone is very soft and has a sort of matte finish it is also dust repellent. The Iroha Stick has a clear plastic lid that allows you to keep the tip nice and clean when it is in your handbag. The Iroha Stick is also waterproof.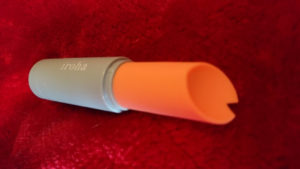 My experience with using the Iroha Stick has been quite easy. Now I don't mean that it's been easy to review I mean it is such a little thing that I can just whip it out and use it along with other toys such as dildos. I do love the concave flat tip the spread out vibrations are great when I use it this way. The "Ears" slit is also great too the fact it is flexible means it really worked with my body and they don't feel like they are digging in.
The dial control is easy to use I can quickly change from high to low in seconds. Not only do I Love the way this little vibrator looks but it's a great bullet style vibrator. I love anything makeup based so this quirky little lipstick vibrator has hit a soft spot for me.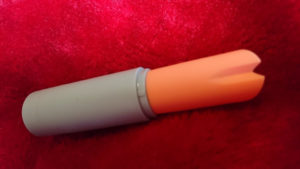 I really think that the Iroha Stick is ideal for beginners, the shape can easily be mistaken for a lipstick so it is quite discreet. The dial control is easy to use there are no fiddly buttons. I love the Feminine design. I think it is great Iroha have come out with something that is budget friendly and the Iroha Stick is very versatile and something that can be used in a hurry.
Overall Rating
Appearance

Value For Money

Vibrations

Ease Of Use

Descreetness
Summary
I am happy to reccomend the Iroha Stick to beginners, to anyone who loves all things Femme makeup and vibrators really do go together! Anyone looking for a strong clitoral vibrator. And just anyone who wants a quirky looking vibrator that they can take with them on their travels.
RRP: £ TBC

You can find The Iroha Stick at

Iroha-Tenga.com