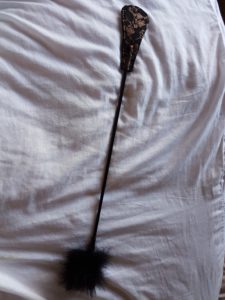 I was given the Burnt Embers Luxury Tickler Crop Duo in return for my honest review for Bondara. I also received a few other pieces from the Burnt Embers range so look out for those reviews in the coming weeks too. The fact I was given the Burnt Embers Luxury Tickler Crop Duo free of charge in exchange for my review is not going to affect the outcome of this review.
My first impressions of the Burnt Embers Duo Crop where that it has the same elegant feel as the rest of the range. It is quite long for a duo crop and tickler, I usually find that the length is too short however this one is pretty long and I would say similar in length to other Crops I own.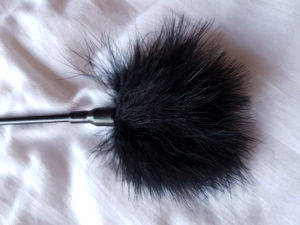 The Burnt Embers Tickler Crop Duo is very sturdy and well made. The feathers are firmly in place and haven't come off in the time I have used it which I find has happened with other Duo crops and Ticklers. The Crop features a loved bronze backing with a black lace overlay, this is backed onto a leather reverse. You can alternate between hits with the fabric side which has a more cushioned impact and the leather side which has a sharper impact.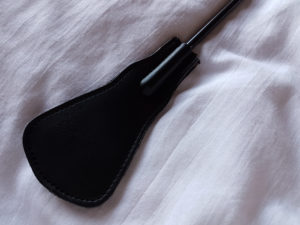 During use I really enjoyed the sharp sting the crop gave, as crops go it is definitely a good quality one which means that just because it is a 2 in 1 item that doesn't mean each part has been deprived of the quality and thought that needs to be put into impact items.
The Tickler side makes using the crop less daunting which is great for beginners the anticipation between whether or not you will be struck or tickled is exciting in itself.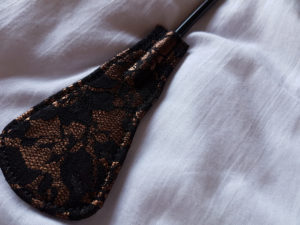 I love this crop and tickler and I think I will be using it time and time again I love how easy it is to use and the sharp sting it gives during spanking.
Overall Rating
Appearance

Ease Of Use

Impact

Build Quality

Value for Money
Summary
I am happy to recommend the Burnt Embers luxury Tickler Crop Duo to anyone who is looking for a Tickler and crop this one is great quality and is the sturdiest one I own. I also recommend it to those who are new to BDSM because the Luxury look means it looks less intimidating the fact it is also two products in one means that if you don't have many BDSM items in your kit this covers having both an impact toy and a tickler for sensation play.
RRP: £ 17.99

You can find The Burnt Embers Luxury Tickler Crop Duo at

Bondara.co.uk