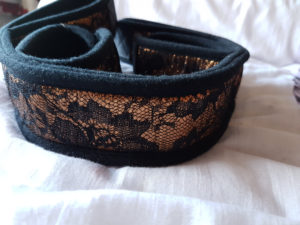 I was given the Burnt Embers Luxury Bondage restraint Bar free of charge in exchange for my honest review for Bondara. The fact I was given this product free of charge is not going to affect the outcome of my review. Bondara are a great company who offer good quality sextoys and bondage items at a reasonable price.
The Burnt Embers luxury Bondage Restraint Bar is both a wrist and ankle restraint combined. Each cuff is secured by a Velcro fastening which means that they can be adjusted to suit the user's wrist and ankle size.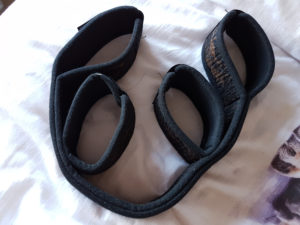 The Burnt Embers Bondage Restraint Bar comes in the same gorgeous bronze detailed fabric with the black lace overlay as the Collar and Leash. This is backed with super padded soft fabric that is almost slightly fluffy in feel. This means that they are really comfy to use and can be used for a while without irritation.
I tested this restraint two ways first as pictured on the Bondara site. With my ankles on the inside cuffs and my arms on the outer two. This position was quite comfortable but I was totally exposed. This is a great position for doggy style which we proceeded to do and I was more than happy at being completely venerable for a spanking. I didn't experience any rubbing or chafing from the material and they look so pretty whilst coupled with the Collar and Leash.
Mr had to place me into the Cuffs as once my hands where bound it does prove difficult to fasten Velcro yourself. However they are easily fastened and if ever they need to be removed in a hurry the Velcro is secure enough to withstand pressure during use but quick enough to whip off if ever you need to.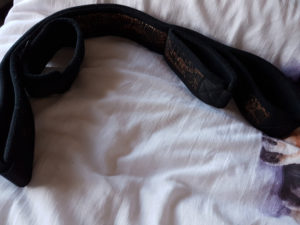 I also used them in a different way with my legs on the outer two cuffs and my wrists in the inner two. Without my arms being bound around my back I was able to be put in missionary position and my legs and arms be pushed into the folded deck-chair position again I felt completely exposed and totally comfortable. The wideness of the Burnt Embers Luxury Bondage restraint Bar meant that I was spread wide.
This was my first time at using a 2 in 1 wrist and ankle restraint I do think it is handy not having to tie them up separately. Again it has the same beautiful look as the rest of the Burnt Embers rage and I have fallen in love with each product so far.
Overall Rating
Appearance

Comfort

Build Quality

Ease Of Use

Value For Money
Summary
I definitely recommend the Burnt Embers Luxury Bondage Restraint Bar to anyone looking for beginner bondage items I think that the Velcro would serve a very good purpose for beginners. I also recommend it to anyone who like me loves the pretty aesthetics of the Burnt Embers range. Anyone who is looking for a restraint that holds both ankles and wrists. Those that want a comfortable restraint bar. Finally to anyone who is looking for a good quality great priced restraint bar that is comfortable during use.
RRP: £ 15.99

You can find The Burnt Embers Luxury Bondage Restraint Bar at

Bondara.co.uk