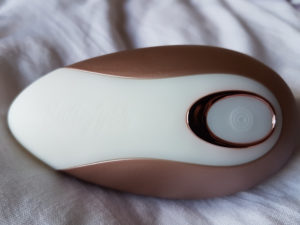 I was given the Satisfyer Pro Deluxe free of charge in exchange for my honest review for Satisfyer. I was also given the other models that they have just released so be sure to look out for those upcoming reviews.
The satisfier has released a few more models offering to cater to different price ranges, which is great the Satisfyer Pro deluxe is the most expensive of the newer models and offers a classy elegant shape. It is also rechargeable like the Satisfyer Pro 2 and has 11 settings. It does boast about being whisper quiet which I do think it may be quieter than the Satisfyer Pro 2 well to my ears anyway. Along with being 100% waterproof there isn't that much difference between this and the Satisfyer Pro 2 other than the obvious shape.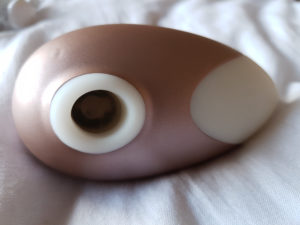 The nozzle on the Satisfyer Pro Deluxe is very shallow and has an oval opening that has the biggest surface area of all the models I have. The shape is basically like an egg, it is so round! I expect this is to fit comfortably in your palm which using it. I am not too sure, I did prefer the long handle of the Satisfyer Pro 2 however you might like the feel of a spherical ball whilst masturbating.
I am not going to drag this review out From the onset I did think I would like this model better than the battery powered ones however when I started to use it I was in for a big shock. So there I am getting ready to use it when I try to place it against me it barely suctions against me. So I spent ten minutes fiddling my flaps trying to get this damn thing to suction over my clit when finally I get it attached. I daren't move! So I am now feeling the tingles of pleasure with barely any build up, after increasing the intensity that high I get a pang of pain! I give up and continue on the lower setting for another 20 minutes to be brought to a pretty rubbish unsatisfying climax.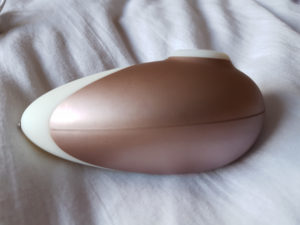 After various attempts at trying to masturbate with the Satisfyer Pro Deluxe I was left feeling frustrated, tired and at my wits end. I really do like the look of this model however there is a reason for there being so many models of the Satisfyer I will come to this in the next paragraph.
Disappointed in myself I tried again and again and still I couldn't get as much of an amazing climax like my previous models I have used. I then thought about how different the shape of the nozzle is and how big the hole is. So basically the hole in this nozzle isn't compatible with my clit! The larger service area of the hole means it doesn't just cover my clit but also most of my labia minora making it not able to suction to my skin.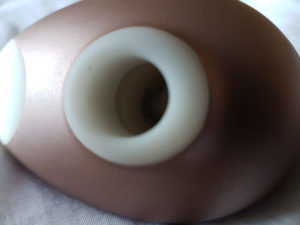 I also roped Mr into letting me try it on his penis! I will not take any responsibility for you nor do I recommend you to do this! So because of the flat nozzle head and how big the hole is I thought it would be great to run along the tip of his penis. Now I managed to get things all lubed up and I though meh, it works for clits right maybe the same suction effect will work on a penis? Right? Wrong! He did say he felt a little flicking effect and then on the higher settings an intense feeling of pain. I may keep it for a torture device for him.
Overall Rating
Appearance

Ease Of Use

Value For Money

Build Quality

Orgasm

Suction
Summary
Okay so back to the review bit, I found the Satisfier Pro Deluxe really wasn't suited to me the shape of my clit and the shape of the nozzle just didn't fit correctly. I can recommend it to those who have a larger surface area of skin around the clitoris or an elongated clitoral hood (if that's the correct term) as I think it would still work as good as the Satisfyer Pro 2 on the right vulva. We are all different and that's why I am glad Satisfyer have made a range of shapes and different sized nozzles as not one size fits all. However It just didn't work for me.
RRP: £ 64.99

You can find The Satisfyer Pro Deluxe at

Bondara.co.uk