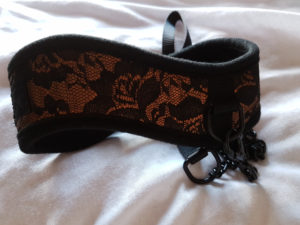 I was given the Burnt Embers Luxury Collar with Leash free of charge in exchange for my honest review for Bondara. Bondara is a lovely company who are great at providing good quality sex toys for a fraction of the price. They always have sales and deals on which I think you should take full advantage of. The fact I was given the burnt Embers collar and leash free of charge is not going to affect the outcome of my review.
Okay, so this is my first Collar and leash review, to add a leash into the mix is a kind of a big deal. I love anything bondage related but I have never had the opportunity to review a collar and leash before.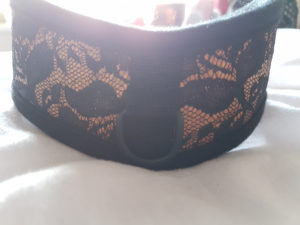 Not only does the collar look stunning with its lovely Bronze shimmer and black lace overlay but it is super padded and extremely comfy to wear. The collar fastens with a Velcro fastening which is to be done up at the back of the neck. This is great for use with multiple partners as you can adjust the size to suit the wearer. At the front the collar dips to allow the user to move their head easily. Below this dip is the strip of black fabric that has a black metal loop which is where the leash clips on to.
The Leash itself is a chain linked black coated metal which matches the collar. The handle of the leash is a corded like fabric that is very smooth and quite thin. I have to say I love the look of this ensemble and if there is any collar and leash that would get me into wearing collars in the bedroom it is the Burnt Embers one! Mainly because it looks so damn pretty but also because it just feels so damn good.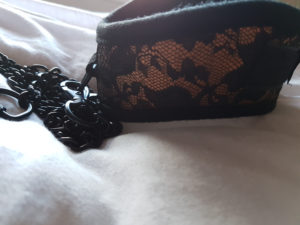 I have to admit I am a newbie to some things so after feeling rather turned on I asked Mr to use the Burnt Embers Collar and Leash on me. I admitted to him I was a little scared but so excited (This is the best way to feel when trying out new bondage stuff for me). So once the Collar was tightened around my neck I felt a rush, kinda like a mini orgasm tingle. I just felt completely relaxed and the collar was so comfy the padding was so thick it supported my neck even when I flopped my head about.
The leash being clipped on was another thing. As a dog owner I can't help thinking that what I was doing was a bit taboo. But heck who cares that click of the leash and another surge rushed through me. I don't know why I haven't tried collar and leash play before but I damn well will in the future.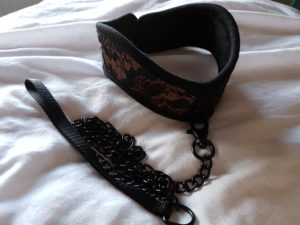 I also love the fact that this collar and leash are so pretty that I can still look elegant whilst wearing them. I think if they had been thick black leather I would've felt a whole lot different. From my experience the Burnt embers Collar and Leash really do feel and look amazing and they are such good quality. I really enjoyed reviewing them, I also managed to find a new kink along the way.
Overall Rating
Appearance

Build Quality

Ease Of Use

Comfort

Orgasm
Summary
I am more than happy to recommend the Burnt Embers Luxury Collar With Leash to anyone who is looking for a good quality well cushioned collar and leash. I also recommend it to those who do love a bit of Bondage play but also like the more luxury aesthetics. They look so pretty that I can also recommend them to people who are new to Bondage as the whole Burnt embers range has a lovely Luxury Fem feel to it which isn't your typical leather and chains look that is usually available for Bondage items.
RRP: £ 19.99

Bondara have an offer on mix and match 3 for £30 The Burnt Embers Luxury Collar and leash is included in this offer!
You can find The Burnt Embers Luxury Collar With leash at

Bondara.co.uk