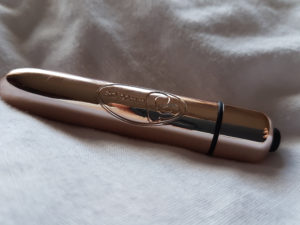 I received the Rocks Off 90mm free of charge in exchange for my honest review for Rocks Off, I have previously reviewed for them you can check out my RO Ignition review here. The fact I was given the 90mm free of charge is not going to affect the outcome of this review.
The Rocks off 90mm is an improved version of the classic 120mm I have always loved rocks off bullets over the years I have had quite a few 80mm and 120mm bullets. Now Rocks Off have just bought out the 90mm which takes an AAA battery compared to its previous bullets which usually take an N battery. I have scowled shops and shops to end up having to go to an old style market stall and pay 2 pounds for a single N battery. Alot of my old bullets I still have dead without a battery in because they are so hard to come by. So I am glad that Rocks off have made that first change.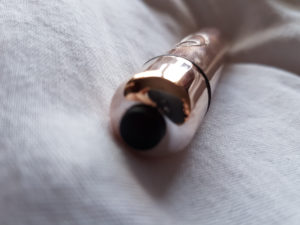 I am not sure if I am correct but the vibrations seem to rumble as opposed to buzz with the 90mm which will be a great improvement to those who love those deep thuddy vibrations. The 90mm Has 10 vibration settings 3 continuous speeds: Low, Medium and High and then it has 7 patterned speeds. The Rocks off 90mm is also 100% waterproof and comes in three colours Silver, Gold and Red the one I have is red which is a lovely rose gold colour.
My first thoughts when using the Rocks off 90mm was "oh my freakin god!" I was able to have a super quick orgasm on the lowest setting! Usually I use the highest continuous setting but nope this little beast has so much power. It's like they have taken the 120mm and added more power. I also found the vibrations feel more rumbly now comparted to the 120mm which is slightly buzzy. It just feels great.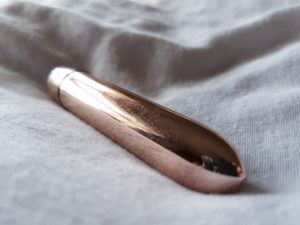 How Rocks Off have taken a pretty great product and made it even better is just amazing. I have to admit I was a little sceptical I mean it's a bullet right and I am a fan of their other bullet's so it's not like its anything new but damn it feels completely different . I don't know how but it just does this little fella does amazing things to my body and I am just in shock.
Overall Rating
Appearance

Value For Money

Value For Money

Orgasm
Summary
I definitely recommend if you are looking for a bullet style vibrator you get yourself a Rocks Off 90mm it is an amazing little thing. I can also recommend it to those who like rumbly vibrations as they feel completely different to the buzzy ones of the 120mm and 80mm bullets I own.
RRP: £ 13.99

You can find The Rocks Off 90mm at

Rocks-Off.com