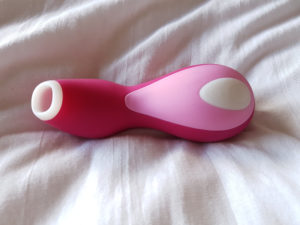 I received the Satisfyer Pro Penguin along with all of the other newer models that Satisfyer have come out with. I have to admit if I could've only chose one to review it would've been this model. The shape of the design I think to me looks a lot more affordable and it doesn't have that typical "classy/high-end" look to it, which is ok if you are buying a high end toy but let's face it the target market of the Satisfyer is the average person who wants to splash out on a toy that is more affordable. I received the Satisfyer Pro Penguin free of charge in exchange for my honest review for Satisfyer.
I managed to get hold of the Satisfyer  Pro 2 pretty easy to review as they were so great with getting them out to reviewers which is always a great thing, whereas the Womaniser for example took me months to acquire and even then I had to go through a retailer and not womaniser themselves which was a pain.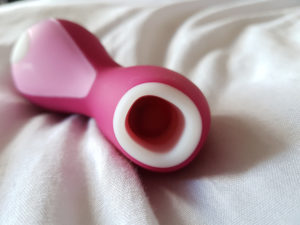 Now the first change I noticed was that the silicone head doesn't poke out like it did with the Satisfyer Pro. Instead it is encased inside the spout which gives a better and cleaner look I think. I also realised the head was a complete different shape the Penguin has a Square shaped hole where as the Satisfyer Pro 2 has a spherical hole. The penguin's hole is a bit bigger than the Satisfyer Pro 2's which I think is great as it is able to pull more flesh into it to provide a more spread out /bigger suction area.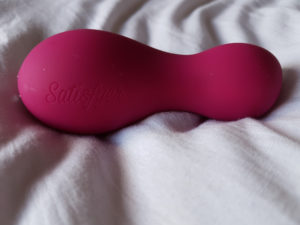 The Satisfyer Pro Penguin is the cheapest model that is rechargeable so I think it will probably be the go to for most people who want to try out the Satisfyer but want the cheapest option and still want it to be rechargeable. It is also waterproof like the Satisfyer Pro 2 which is always handy no need to worry about getting it super wet. It has 11 different intensity settings these are controlled by a single button which is held to turn on and then pressed to increase the intensity. The charger is a magnetic cable which is ideal to just pop on and off it is very convenient.
I found the shape of the handle really easy to hold, the fact the body is sort of chubby means it fits nicely in my palm and I am able to have great control over it without getting a dead arm/cramp. I did find the spout easy to place over my clit however it took a while before I got "sucked" into the head once that was established though I was able to relax and enjoy the ride.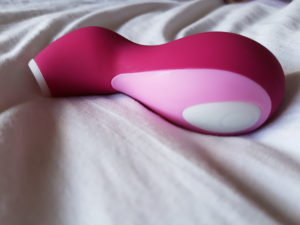 It creates that same sucking sensation as the Satisfyer Pro 2, the feeling is like someone sucking your clit basically, I like to use a lot of lube when using any type of suction toy as I tend to get a bit friction down there so I definitely recommend a good lube like Sliquid to keep things going smoothly. I do like the second and third intensity as it gives me a nice slow build up however there are a lot more powerful settings to go through but they are a little too intense for me.
Overall Rating
Appearance

Ease Of use

Value for Money

Build Quality

Orgasm

Suction
Summary
I really enjoy using the Satisfyer Pro Penguin and for me it is better than the satisfier Pro 2 because I am more comfortable using it due to the shape of the body and the larger nozzle hole. I definitely recommend the Satisfyer Pro Penguin to anyone who is looking to buy a Satisfyer or any other suction based toy, I think it is a great affordable option and I personally prefer this design to the Satisfyer Pro 2 so I am more than happy to recommend it to those looking for a Satisfyer.
RRP: £ 54.99

You can find The Satisfyer Pro Penguin at

Bondara.co.uk