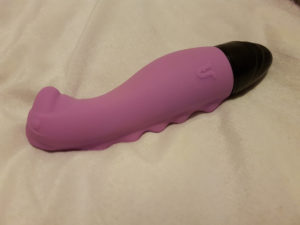 I was given the Dino to review free of charge for Adrien Lastic in return for my honest review. I have previously reviewed for Adrien Lastic you can read my Bonnie and Clyde review here. Adrien Lastic are a fairly new company that design the most abstract vibrators I have ever seen I really do recommend you check them out.
The Dino is a mini vibrator that is designed for G spot stimulation, it is also very detailed and very highly textured. It is so adorably cute, the Dino is shaped like a little dinosaur with a face that includes a smile on his beak this angles into a curve and acts as the G spot stimulator. The rest of the shaft features little spine plates that form along the back side of the shaft these feel great when thrusting, I particularly like thrusting slowly with the Dino so I can feel each individual plate.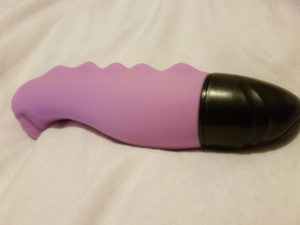 This little vibrator does require 2 AAA batteries to power, it is made from body safe silicone and plastic which is a must when it comes to basic vibrators. The Dino is also waterproof and has 8 vibration settings. These consist of 3 continuous vibrations; Low, Medium and High and then 5 pulsation and pattern modes.
To control the Dino you simply hold the button in for 3 seconds and it will turn on. You then press the button in to cycle through the vibration settings. When you are finished with your Dino just press in and hold the button again for 3 seconds to turn it back off.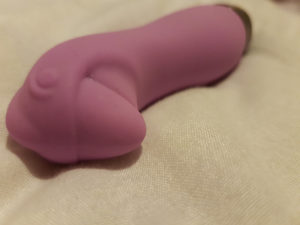 I found using the Dino very pleasant not only does he have the cutest face but I actually got a good few orgasms whilst using it. The head/beak also really nestles against my G spot and the angle for me hits me just right to achieve a G spot orgasm. The vibrations I found where good enough for me the highest was my favourite. I also really liked using the Dino externally as a clitoral vibe this works really well for me and the silicone feels so smooth.
Overall Rating
Appearance

Texture

Build Quality

Value for Money

Vibrations

Orgasm
Summary
I would recommend the Dino for anyone looking for a budget friendly G spot vibrator. I especially recommend it for those who are just starting out as it is a perfect newbie vibe. It isn't rechargeable so those looking for a rechargeable may need to go for something different but as a basic, cute, versatile vibrator it's pretty damn good.
RRP: £ N/A