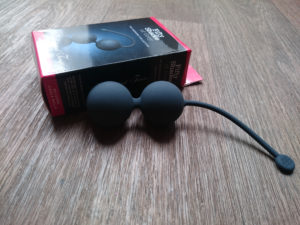 The Fifty Shades of Grey Weekend Tighten and Tense Kegel balls are part of the range that was released for the first fifty shades film Called the Weekend Collection, they improved some of the original range of which I previously tried the horrid Metal ones that has a cord that got covered in gunk, it is safe to say they were binned a long time ago. The fifty shades of grey Tease and tense are made from body safe silicone this sits well with me as I love the feel of silicone and with it being silicone it is 100 % body safe.
These kegel balls are coated completely in lovely silicone which also has a silicone cord and attached to that chord is the pull tab this features the fifty shades of grey emblem. The silicone makes them easy to clean, they can also be sterilized with ten percent bleach solution to use between partners too.
The Fifty Shades of Grey Tighten and Tense are quite weighty and give a good pelvic workout. They are seamless and very easy to clean. To train your kegels just wear these balls while you tense and release your pelvic floor this will make your workout a lot more fun and add a spark of pleasure to it as well.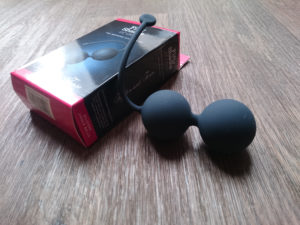 Things weren't all fun and games, The one thing became apparent when using these kegel balls the tab … this was so annoying and I found it difficult to grip when my fingers are all lubed up I just wish it has a retrieval loop instead.
I do recommend them as a budget friendly silicone option for kegel exercising. They are way better than the horrid Inner Goddess Pleasure Balls and they are definitely more hygenic. The only let down is the tab on the retrieval cord however this is personal preference as I think a loop is easier to grip especially if you have lubed up hands.
Overall Rating
Appearance

Build Quality

Ease Of Use

Value for money
Summary
I do recommend them as a budget friendly silicone option for kegel exercising. They are way better than the horrid metal ones and they are definitely more hygenic. The only let down is the tab on the retrieval cord however this is personal preference as I think a loop is easier to grip especially if you have lubed up hands
RRP: £14.99

You can find Fifty Shades of Grey Tighten and Tense Kegel Balls at

Lovehoney.co.uk