Liberator Throw
The Liberator Throe has been on my want list for years now, I havn't been able to get one to review. I have been looking for alternatives. Sheets of san francisco have a lovely fluid proof version that I am hoping to try.
Update: I mannaged to finally get a Liberator Fascinator Throw to review for Liberator, you can check that out Here!
Sheets Of Sanfrancisco FluidProof Throw
After not being able to have a great squirting sesh without cleaing up and the bed being covered in a huge wet mess. I have grown very eager to get myself some sort of protection the Liberator has been a flop. Sheets of San Francisco are a lovely company so I am hoping to review one real soon.
Update: I have reviewed the Sheets Of Sanfrancisco Fun Sheet Plus – Flat Sheet for Sheets Of Sanfrancisco you can check my review out Here!
Frisky Beasts the Missing Link
This one is a bit of a roll over from my 2015 wishlist, I havn't been able to get on to review but would still love the opurtunity to review this dildo.
Womanizer 2 Go
This one screams to my inner femme. I have recently been delving into the beauty world my skills have improved. When i saw Womanizer made a product that wa sin the shape of a lippy both my blog self and beauty lover self sighed harmoniously.
Update: I have reviewed the Womanizer 2 Go for Good Vibes huge thanks to them for sending me this to review, You can check out my review Here!
Queen Bee
Hot Octopus have been working hard behind the scenes to create a puls plate clitoral massager. I was hoping I would be able to review one.  We reviewed the Pulse Duo 2 a few years back so I assumed I was on the reviewers list, albeit nievely. I have now been put on the list. Here's hoping I get one to revew.
TokiDoki Massage Wand
Lovehoney recently announce a collab with TokiDoki. Now i dont know much about TokiDoki other than it's a cartoon/anime but oh my! is this wand cute. The little unicorn head is like nothing I have ever seen on a wand before.
Crave Vesper
This one has also been a want for so long. I have seen other bloggers both love and hate this wearable piece of jewellary that is also a vibrator however I havn't been able to get one to review so I thought it apt for it to be added to my Wishlist. This is also a roll over from my 2016 Wishlist!
L'amourose Rosa Rouge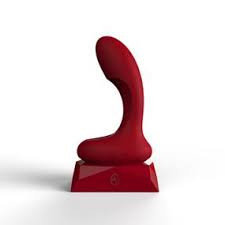 This again is a roll over from my previous Wishlists both my 2015 and 2016 one. This is a vibrator that heats up. I have wanted to try and get one to review for ages now. I still have hopes.