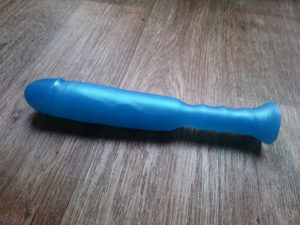 The Anaconda definitely wanted my buns Hun! So I literally have been in love with this dildo ever since I had laid my eye on it. I scoured the Tantus site for hours only looking at the Anaconda I had to have it. The semi-realistic design the girth the handle just everything about it made me fall in love.
I lusted over the Anaconda Handle so long Mr eventually agreed to purchase me one it was in a Grab Bag sale and the colouration was the Peacock I think it used to be on that Splash dildo too. Anyway it is sort of a tealy blue colour with sort of a shimmer to it. The dildo itself is sort of rough/matte feeling with a smooth shiny tip this makes the head of the dildo look amazing. There is also vein detailing on the shaft very faint and semi-realistic which is perfect for me.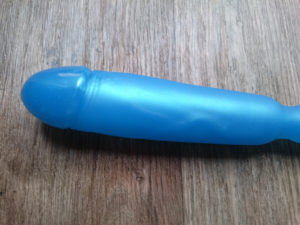 I found the Tantus Anaconda Handle is a perfect dildo to use if you are after a larger dildo but still want to be able to thrust with it. The handle is made from a matte effect silicone which means I was able to use it even when my hands where covered in lube and still be able to keep my grip.
I did come across one problem… my eyes are bigger than my vagina! The tip of this dildo is very spherical and doesn't taper down which makes the initial insertion difficult and a bit of a juggling act. However once that 'pop' happens it is relatively easy to use and the girth really gives me that stretch I crave.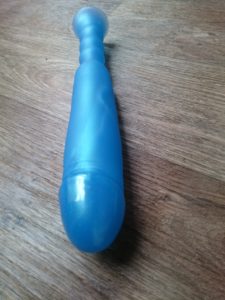 I found that the Anaconda's length was ideal for me however it may be a tad too long for some users. The length is quite similar to the other Handle toy I own which is the Echo Handle, so if you already own another handle toy there isn't much difference in length if any.
Although the Anaconda Handle isn't a dildo I will use every time I need to masturbate, it is one I have a very large soft spot for. If I need a bigger dildo I reach for the anaconda. I do recommend that you do a lot of warm up first using smaller toys. Preparation is everything when it comes to using larger dildos. And lube! The Anaconda eats lube like most of my Tantus dildos so be sure to keep reapplying lube throughout your session.
Overall Rating
Appearance

Girth

Length

Ease Of Use

Firmness

Orgasm
Summary
Basically the Anaconda is a beautiful dildo that has amazing girth, it is a girth lover's dream. I really like the look of this dildo. The handle is great during use the matte textured surface means that you have a lot of grip and control over the dildo during use. It is also easy for someone else to use the Anaconda on to, the handle makes a hell of a lot of a difference. I really reccomend this dildo to anyone who has difficulty using dildos beacsue there is not enough to grip onto. I also reccomend it for my fellow girth lovers!
RRP: £52.77

You can find The Anaconda Handle at

Tantus.inc