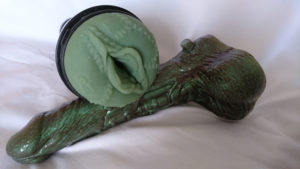 Happy Halloween to our loyal and faithful readers and to those who have just joined us for this post. Those who are our regulars know we always do our annual Halloween Post. We have previously reviewed the Freaks couple's sets and I also did a Post last year about the Best Halloween Sex Toys available. Well we have teamed up with Fleshlight again this year to bring you the review of the last and final freaks we didn't own the Fleshlight Freaks Frankenstein couples set.
I cannot thank Fleshlight enough for being such a lovely company to work with, The fact they have given us this set free of charge will not affect the outcome of our review. I have to say if you haven't heard of Fleshlight you should really check them out! They produce one the biggest and most popular Male Sex toys and the Fleshlight is known for its distinct shape and amazing choice of orifices.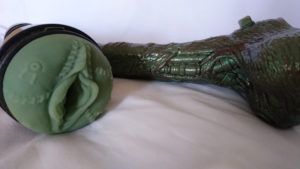 So this year Fleshlight announced the new Freaks Oral range. They have just bought out three new mouths; Zombie, Reaper and Predator. Which look amazing and are a total shock, I didn't even know they were bringing these out! They also released new coloured sleeves for the existing Freaks Fleshlights.
We received the Fleshlight Frankenstein dildo which in length is just over 10" of platinum cured silicone, yes its freakin' huge! Obviously I had my doubts I would not possibly be able to use this dildo I mean it's so big. We also received the Frankenstein Fleshlight which came in a box with the original sleeve colour on which is flesh pink, but we actually received the new pastel green sleeve which I am quite happy about as it looks way better I think.
Dildo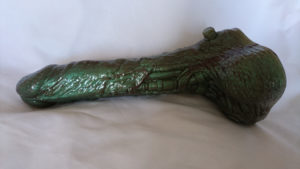 The Frankenstein Dildo is huge yes, however it is very fitting to the theme obviously when we think Frankenstein's monster it is a huge abomination of a beast. However the Dildo is also very stunning. It features a sort of skin like appearance that has various stitches along the shaft and coronal ridge. It also has a missing piece of flesh near the bottom of the shaft that features pistons and piping.
The Frankenstein dildo also has a very sturdy pair of balls that are great for thrusting as you can really grip them. This also has a little cog sticking out of one of them which is just really amazing. I have to say Fleshlight really deliver when it comes to the little details.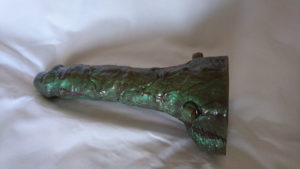 The Frankenstein dildo is a pearlescent green with a hint of red shimmer, it really is a beautiful colour. Like all our other Fleshlight Freaks Dildos it really is stunning and mesmerising to look at.
The size of this dildo made using it a little tricky, even for me I found the length way too long and the girth needed warming up to. The balls act as a great handle for thrusting and the fact this dildo is long may work great for those who find it hard to reach and thrust with smaller dildos.
That said I did find the Frankenstein dildo to be pretty hefty in weight, it felt really heavy and when thrusting my arms become tired and I end up helplessly trying to use my left hand.
Of course this will not be a dildo I just use regularly but maybe every Halloween or just when I want that extra length and girth. The texture on this dildo is incredible so makes up for the fact it is huge. I love texture and you can really feel every stitch during use.
Fleshlight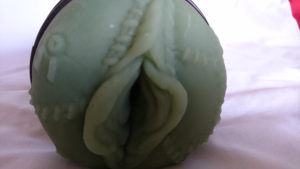 The Frankenstein Fleshlight is well… a stitched up vulva. The inner Labia are uneven and look like they have gone through a vaginal tear (childbirth sucks). The Fleshlight then features Stitches along both sides of the clitoral hood. The hood itself is mismatched and looks like it is two pieces of skin folded over each other. Along the outer labia are various stitches. This is in that lovely Pastel green colour.
It is agreed it may not be to everyone's taste much like the rest of the freaks range however I think the attention and likeness to detail is incredible. I love how it doesn't look clean cut and perfect on purpose. And that Fleshlight have been able to put this much effort into a Fleshlight that resembles a vulva that could belong to Frankenstein's bride.
The texture of the Frankenstein Fleshlight is pretty impressive. The beginning of the entrance is shaped like a screw with a bolt at the end which then goes into a zig zag pattern with pumps along the bottom wall.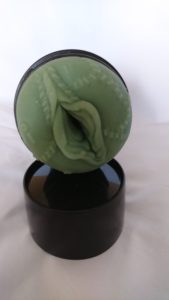 Like all Fleshlight's the texture on the Frankenstein is incredible. I like the swirled texture of the screw at the entrance this feels amazing and gets you going for what's to come. The texture along the rest of the Fleshlight got a little repetitive.
I found that entering and pulling out of the Fleshlight was a lot more stimulating than keeping myself inside the Fleshlight and thrusting. The Screw at the start I felt gave more stimulation to the head of my cock compared to the zig zag texture deeper in the sleeve.
Like in the previous Fleshlight Reviews we have done I must emphasize the fact YOU CANNOT USE SOAP WITH FLESHLIGHTS. Due to the material they are made out of if you use soap whilst cleaning them you will end up with a sticky tacky masturbator sleeve. Just rinse with warm running water and a little antibacterial Toy cleaner or Fleshlight cleaner
Overall Rating
Dildo - Orgasm

Dildo - Appearance

Dildo - Texture

Dildo - Length

Dildo - Girth

Fleshlight - Appearance

Fleshlight - Texture

Fleshlight - Pleasure
Summary
Overall we had great fun reviewing the Fleshlight Freaks Frankenstein couples set and as always think they are a great novelty sex toys. If you are a bit of a creepy lover than these are perfect for you. The dildo is great for Girth Lovers, People who love long dildos, those that love texture I mean this dildo has everything going for it. The Fleshlight is great for those who prefer a lot of texture near the base of their penis and those who like continuous texture for stimulation. We think they are great and if like us you need a freak in your sheets you should go and grab them right now!
RRP: £50 (Each)

You can find Fleshlight Freaks Frankenstein Dildo and Fleshlight at

Flehlight-Internation.eu