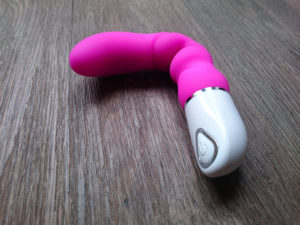 I was given the Bondara bendable Vibrator in return for my honest review from Bondara they have given me a few products that need reviews and I was more than happy to accept. The fact I was given this product free of charge is not going to affect the outcome of this review.
The bendable Silicone vibrator Has 10 speed functions, 3 of which are continuous vibration settings fast, medium and slow and the other 7 are pulsation/pattern settings. The unique thing about this vibrator is that it is bendable yes, you can bend the shaft half way down to create up to a 90 degree angle.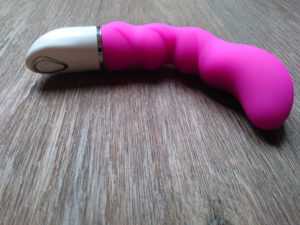 This means you are able to reach your G spot for sure. Some toys don't have that bend you need this vibe can be customised by bending it however much you need to create an angle that will give you the right g spot stimulation you need to climax.
The settings are easy to work out. Press the button to turn on and cycle through the functions and then hold for 3 second to turn the vibrator off. The Bendable Vibrator needs 1 AAA battery to function which for the price is pretty standard that t is battery operated. The bendable Vibrator is also waterproof so you can take it on adventure in the bath shower ect and you won't have to worry about splashing with water when cleaning it up.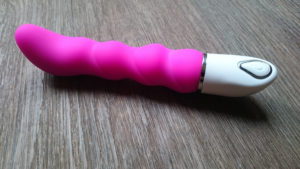 My experience with this vibrator was a great one I was able to bend the shaft to create the angle I needed to give me that firm g spot stimulation. After only 5 minutes of rotating the handle I was able to come to a squirting climax. This dildo offers texture as well as the bend. The shaft has a series of bumps which create a popping sensation when thrusted this also adds the dimension of texture during your experience. The length is suitable for the purpose also as it isn't too girthy or long so you can stimulate the G spot and whilst you push it out during orgasm it doesn't catch you walls which I have known girthier vibrators to do.
Overall Rating
Appearance

Texture

Girth

Length

G Spot Stimulation

Build Quality

Value for money

Orgasm
Summary
I really recommend this vibrator to anyone who is thinking on experiencing G spot orgasms it is cheap and reliable and one of the best G spot stimulators I have come across in this price range. It does the job it is intended to do and the fact you can bend it to create the curve you need is a point that should be taken into consideration. As most G spot vibrators are set at a certain angle which you can't adjust to suit your body.
RRP: £19.99

You can find The Bondara Bandable Vibrator at

Bondara.co.uk