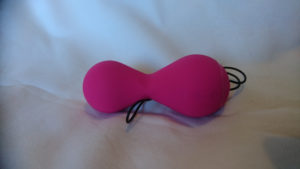 I was given the G Balls 2 free of charge in exchange for my honest review.  I am reviewing the G Balls 2 for Fun Toys. Fun Toys are a British company and each of their products come in beautifully compact cylindrical boxes.
The G Balls 2 are an app based Kegel device. The app is called Kegel magic. When you open the app you are grated by, "Hello, Beauty" this is just a lovely way to be greeted into an app. You connect the G Balls 2 to the app via blue tooth you need a good connection for this. Mine did have to re connect a few times as I keep losing connection.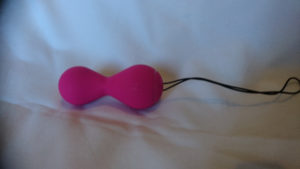 You can then press play on your work out. You get prompted to insert the G Balls when lying down and if they are not in the right place it tells you to slide them in or out and you get to test your strength on getting a little bird to fly before starting the workout. Where a little ginger haired lady encourages you to tighten and loosen your Kegel muscles. Each time you do this the G Balls vibrate when you squeeze and stop when your release. It does pretty well at syncing with the app and there isn't any lag between the motion and vibration as far as I can tell.
You can also customise the app with your details and keep track of your progress. It also has a period tracker which helps keep track of your ovulation and period. It also features a FUN mode where you can play vibration settings straight to your G Balls 2 they then vibrate to the pattern you have chosen on your phone. You can also increase and decrease the strength of this vibration by pressing the plus or minus button.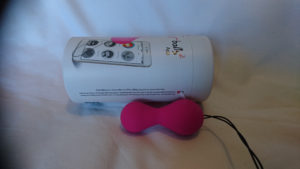 The G balls 2 themselves are easy to clean and feel comfortable during use. The neck in between the balls is pretty flexible yet sturdy at the same time this enables you to insert them with ease. The retrieval cord is light and you can't really tell it is there, however it does to a brilliant job when it comes to pulling them out.
When not in training mode you can also use to vibration settings on your G Balls they have vibration setting. You turn your G Balls on by pressing the Button below the sensor in for 3 seconds it then vibrates to let you know it is on, you can then press the button again to access the vibration mode and again to go back into the training mode. To turn it off just hold the button in for 3 seconds. Simple.
Overall I rate the G Balls pretty high the app is amazing and you can tell a lot of work has been put into designing the app and toy. I much prefer this to my IMToy Candy and think it is the best APP controlled Kegel Exerciser available.
Overall Rating
Appearance

Ease Of Use

Build Quality

Orgasm

Value for money
Summary
I Recommend the G Balls 2 to any women who want to be able to track periods and Kegel all within one app. Those who want a Kegel toy that is app controlled. Those that struggle to Kegel or don't know how to, the touch response and app tips are great for those who find it tricky.
RRP: £69.99

You can find the G Balls 2 at

Bondara.co.uk