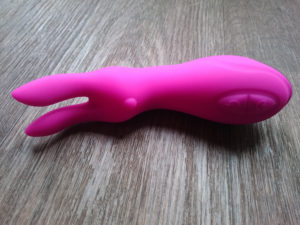 I received the Trixie Bunny Clit Stim from Bondara in exchange for my honest review. The fact I have been given this vibrator free of charge is not going to affect the outcome of my review in any way shape or form.
The Trixie Bunny is made from silicone with the only thing not being silicone is the battery compartment. Trixie Bunny takes 2 AAA batteries to run. It has 7 vibration patterns which consist of 2 speeds slow and fast and 5 pulsations.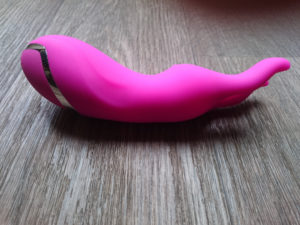 To turn on the Trixie Bunny you press the power button, to select a speed you press the button below it. You then press the bottom button to cycle through the speed selection. To turn it off you simply just press the power button again.
The controls on this vibe are very simple the design is cute also it features a little nub as a nose of the bunny which could be used for pin point stimulation as well as two very long ears to stimulate the clitoris.
The Trixie Bunny is easy to use and even on the low setting starts working me into a frenzy. I prefer continuous vibrations although the pulsations where quite good as well. The Ears where long enough to stimulate my clit really well and I didn't have to do much wiggling until I came to orgasm. The design of the Trixie bunny is cute and stylish but also has those long ears which are amazing and do the job pretty well.
The Trixie Bunny is small enough for me to use with my partner during sex and the quality of the product is great for the price it is a lower priced vibrator which is great value for money I have luxury vibrators that don't give me orgasms as quick as the Trixie Bunny. There isn't a bad thing I could say about this product.
Overall Rating
Appearance

Vibrations

Value for money

Build Quality

Orgasm
Summary
The controls are easy to navigate, it is made from silicone and abs plastic so it isn't toxic. The ears are great and work really well to stimulate both sides of the clitoris. The Trixie Bunny is cute and none scary so I would really recommend this for beginners. I also recommend it for people on a low budget and really want a decent clitoral vibrator. It can be used solo or during sex which is great for couples wanting to spice things up.
RRP: £14.99

You can find the Trixie Bunny at

Bondara.co.uk