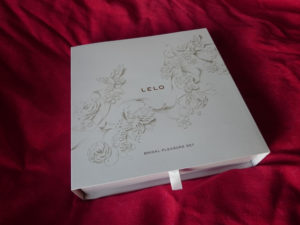 I was given the lelo Bridal Pleasure Set back in may in time to use and review on my honeymoon. I was given the Bridal Set Free of charge to review for Lelo and that is not going to affect the outcome of this review.
I was drawn to the Bridal Set simply because there are not many Sex toys or accessories that are marketed for the wedding night/ honeymoon. This seems odd when it is such a bonding time between a couples. Whilst in the middle of my Wedding Planning I was scouring the web for novelty wedding toys and nothing came up.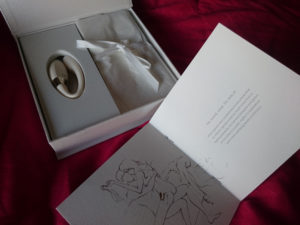 I mean I could wear white underwear/lingerie but there are very few white or ivory toys or restraints. So I was stuck. The only thing I could find was the Lelo Bridal Pleasure set. It seemed classy and elegant and had everything there needed for sensation play.
In the Lelo bridal pleasure Set you receive a very posh blind fold that is made from ivory silk ribbon that is used to tie it together and there is also a silk padded back lining to the mask. The front of the mask is made from leather with Pearl beaded embellishments running across the front. The Blindfold is really soft against your skin and very comfortable to wear. The padding means that you can't see through the material overall it gives a really good amount of coverage. I also feel really elegant when wearing the Bridal Blindfold, it is so pretty!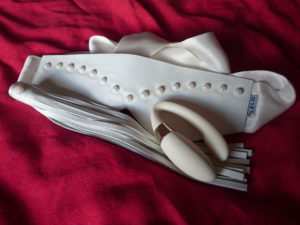 The second item included in the Lelo Bridal Pleasure Set is a Finger Flogger. A mini flogger that has a metal snap band metal type of fastening that you wrap around your finger and it stays in place until you unravel it. The Finger Flogger is great for a honeymoon it suits all experience types. The leather tassels are thin and small enabling you to use then whilst you are in close proximity to your partner.  It is also great for stroking your partner's body the Finger Flogger leaves trails behind which feel exquisitely ticklish. The Finger Flogger also has a single pearl that is embedded into the cuff.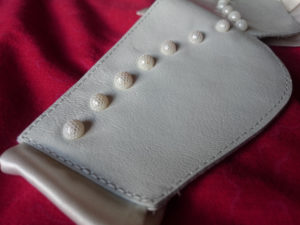 In the Bridal Pleasure Set you also get an Ivory Noa. The Noa is a couple's vibrator that is used during sexual intercourse. You use this without having to hold it in place leaving your hands free. The Lelo Noa is a crab claw shaped vibrator, the smaller prong is inserted into the Vagina whilst the thicker prong sits on top of the clitoris. The internal prong has a flattened tip that bulges out slightly to access the G spot. The underside of the internal prong is concave meaning the penis just slips against it snugly the internal prong is really thin much thinner than a finger so don't worry you won't be too full whilst wearing it during sex.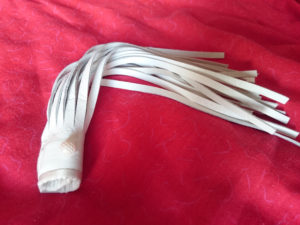 The Noa is rechargeable 100% waterproof and made from medical grade body safe silicone. The size and shape is quite similar to the Tiani 24K which I loved. It has 6 vibration settings 2 speeds of high and low and the rest are pulses, inclining and wave settings.  To Charge the Noa You have to twist to unscrew the clitoral prong from the metal base connector and then you will see there is a port just at the base of the screw bit, you plug the charging cable into there and then the USB into any USB port/plug.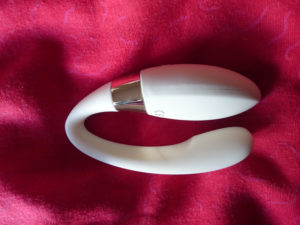 To Turn the Noa on you press and hold the single button for 3 seconds you then can press it again to cycle through the settings. When you are finished just press and hold again for 3 seconds and the Noa will turn off. I was able to orgasm on the highest continuous setting. The Noa is very comfortable to use during sex and I did use it for warm up and during foreplay to give me that head start so we were able to climax together.
All this comes nicely packaged in a magnetic sealing box with a ribbon and thick old fashioned paper cushioning it. Everything is neatly placed ready to be taken out and used to spice up the wedding night.
Overall Rating
Appearance

Contents

Finger Flogger

Noa

Blindfold

Value For Money

Build Quality

Vibrations
Summary
I don't really have a bad thing to say about the Bridal Pleasure Set it does what it says on the tin and I think it is a lovely set to have as a gift, if you are lucky enough to have someone who would buy you this as a wedding present. I think the Lelo Bridal Pleasure set has everything you need for your wedding night/honeymoon and it still has that pure white/ivory theme I wanted to keep throughout my wedding.
RRP: £149

You can find the Lelo Bridal Pleasure Set at

Lelo.com