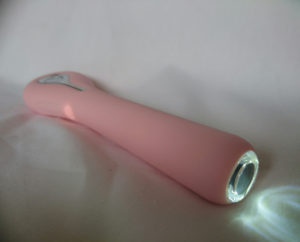 I have recieved the Svakom Siime Eye from Svakom this product is also currently known as the Selfie Vag Cam. I have waited a while to get my hands on this little gadget out of pure curiosity. Now, I have always been into how things work so why not see what my vagina looks like and what happens internally when I orgasm?
This to me is intriguing I think that the female body can do incredible things we can grow babies give birth to them, nurture them. So what happens when I orgasm? Apart from contractions and the feeling of an orgasm I can't see what is going on inside me. When a man cums it is a visual treat you see the outcome of the orgasm with women you can barely see or tell that they have orgasmed externally.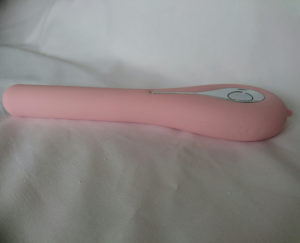 The Svakom Siime Eye is a vibrator that has a camera inside with the lens at the tip of the shaft. You can view, Take pictures and record your vagina whilst using this vibrator. You can also link it up to a phone and give that to your significant other to watch as you achieve your climax. As well as the curious kitten like myself I believe that there may be an audience that may be really interested in this type of vibrator. For example it could make a really interesting addition to a doctor/nurse role play or people that have a Medical kink I think this would be a brilliant tool to have as it almost mimics the keyhole cameras used to perform surgery however it is a vibrator so really you get the best of both worlds.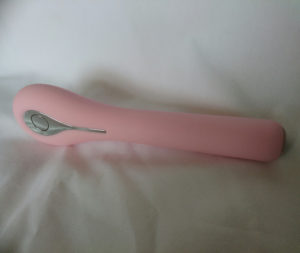 The Svakom Siime Eye is made from environmental friendly body safe silicone and abs plastic like all Svakom products. It is also waterproof and rechargeable. The Siime Eye has a 0.3 mega pixel camera with an LED light that surrounds it you can turn the camera and light on by pressing the button that has a symbol of a torch on it. The Svakom Siime Eye has 5 regular speed you press the S button to turn it on and the up and down arrows to cycle through the speeds. You can then once it is turned on press the S button again to take you to the intelligent mode or hold the S button to turn off the vibrations.
The Svakom Siime Eye is super clever on the left side of silver Plastic grip there is a large round button you press this and it lights up the long thin strip of plastic this has four indicators on and indicates the battery life. If it has one it is low if all of the strip lights up it is full. This will show for about two seconds and then flash off again. It also has the Svakom intelligent mode when in this mode every setting you choose to bring you to orgasm will be remembered, then next time you use the Svakom Siime Eye you can then select the S mode to play back the sequence without you having to change the settings.
There is no wires required to transfer the pictures, videos, or live feed to a laptop/pc,phone or tablet you just download the Svakom Siime Eye app and type in the password given when connecting it to the Svakom Siime Eye through the wifi setting. The app gives you a choice to watch the Siime eye in action you simply click the Siime Eye and it opens a camera that has a live feed straight from the Siime Eye to your chosen device. You can then record and take pictures whilst watching the live feed.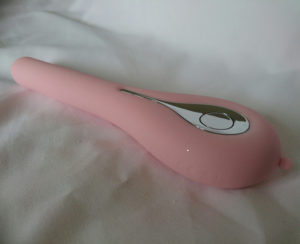 Once I got set up using the Svakom Siime Eye was pretty easy I found using lube helped a lot with the picture quality as my natural lubrication was a little thick. Before inserting it I do like to use it to view my whole vulva. You could also use it to tease a partner and get a few breast/face shots before taking the plunge. The vibrations are similar to Svakom's other products which are pretty strong I would say not far off the Mini Emma wand on the highest setting It is indeed quiet and I can barely hear the vibrations when I use it.  You can of course use the Svakom Siime eye as a vibrator without the Camera in use. The app was very responsive and I didn't incur any staggered images or loading.  I can orgasm very quickly using the Svakom Siime eye as the vibrations are pretty strong. It also makes a great clitoral vibrator with the camera pointing towards my vaginal entrance I can still use the camera mode.
Overall I am over the moon with this little gadget and love the novelty of watching my vaginal walls clench and see my natural lubrication lining the walls of my vagina I feel like I'm in some sort of scientific sex class. Okay I admit I am totally geeking out at being able to see my insides. I can't help but be fascinated by how my body works.
Overall Rating
Appearance

Length

Girth

Camera

Vibrations

Orgasm

Build Quality
Summary
I think the Svakom Siime Eye is an amazing high tech piece of equipment and even for a vibrator it is pretty snazzy. I really recommend it to those who want to see what happens when they orgasm. Those that like visual stimulation as it can be quite erotic when used to tease a partner or by one's self. I love the fact it can take pictures whilst in the live feed mode and I think it is a brilliant addition to those that like I previously mentioned have a medical fetish I believe that it could be very useful in some great role play scenarios.
RRP: £186.65

US customers can get $25 off the pale pink Siime Eye by using the code: RXT2XRQU
You can find the Svakom Siime Eye at

Amazon.com