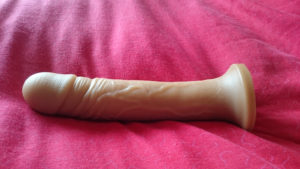 The Tantus Gary is a beautiful dildo. I personally this it is so well proportioned and very visually appealing. The size and shape is similar to Mr's so I am being a little stuck in my ways but damn Gary is a beauty. I received the Gary free of charge in exchange for this review for the lovely Tantus.
Those of you who don't know who Tantus are they are a Sex Positive company who started out making Body safe Silicone dildos and butt plugs they now have a wide range of dildos, vibrators and even the new Rumble Wand. They encourage everyone no matter what their sexuality or gender to explore themselves sexually in a safe and body positive way.  Tantus have an amazing reputation among my fellow bloggers and let me tell you even the little details such as communication and customer service they are amazing and go above and beyond to make your experience with them a positive one.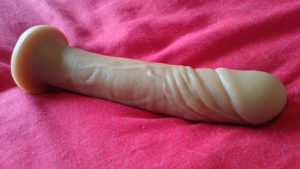 I am a fan of Tantus I have to say I purchased the Anaconda Handle from them when I first started blogging and I fell in love with that dildo at first sight. The silicone they use is amazing and a little firmer than other companies I have tried however I do like my dildos firm especially when they have texture. The Gary is not a firm dildo. It is made from the Tantus O2 silicone formula. Which is a dual density firmness silicone. This means Gary has a firm inner silicone core and the outer layer of silicone is softer making it mimic the tissue and skin of a real phallus.
The Gary has a beautifully shaped Glans/head which features a pronounced Meatus which adds to the realness of the Gary. Just under the Glans penis /head is a few rolls of skin. This I believe is made to look like a foreskin that is retracted.  The tip of the Gary is a lot wider than the rest of the shaft it sort of narrows out as it reached the base of the dildo. The shaft is covered in vein like detailing. That is subtle enough to look realistic and not like it belongs to the hulk with popping veins. The underside of the Penis you can see the Frenulum continues into creased skin like detailing that looks super realistic.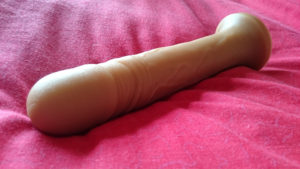 Seriously! Did I mention how beautiful the Gary is? The Gary is also harness compatible due to the flared base this means you can also use the Gary anally. The Gary has a matt finish this give the Gary a skin like roughness so the Gary is best used with a large amount of lube.
Inserting the Gary for me is amazing because the head has more girth than the shaft you get a nice popping sensation. The dual density feels quite realistic and means the silicone is more forgiving and less firm. For those that need firm stimulation for G/P spot stimulation don't worry the large head rubs against my G spot without me even trying to target it.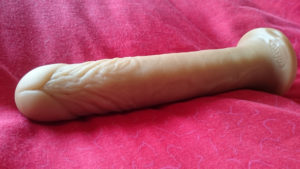 Even though the Gary life like in shape it does all the things a great curved G spot dildo does for me. I found my vagina almost welcomed Gary in an Embrace even when I was having strong vaginal contractions through my orgasms. Gary just sat there and waited it out. Gary didn't get in the way or feel to apparent during orgasms which meant I could keep it inside me through my orgasms when I would usually have to take out the dildo as I would feel too full.
I am delighted with the Gary and it will be a dildo I use regularly Not only is it a looker but it feels incredible. I am in love with Gary!
Overall Rating
Appearance

Length

Life Like

Build Quality

Value For Money

Orgasm

Girth
Summary
I recommend the Gary to those who want a realistic strap on dildo. Those that want a Dual Density Dildo that is anal safe. Those that want a good quality Dual Density dildo. I also recommend it to beginners the size and shape is ideal for those starting out the realistic shape is great for those that haven't tried anything unusually shaped. I basically recommend it to anyone who is looking for a Silicone dildo it ticks all the right boxes and is body safe.
RRP: £83.21

You can find The Gary O2 at

Tantusinc.com