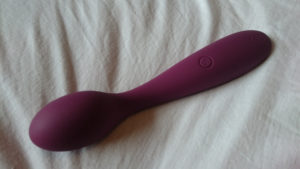 I received the SVAKOM Keri free of charge in exchange for my honest review. The fact I was given this vibrator isn't going to affect the outcome of my review. SVAKOM are a luxury company who specialise in designing the most advanced sex toys you could image. They have self-heating Vibrators, Ones that can record a video of the inside of your vagina. And ones that have smart technology. I have reviewed teh SVAKOM Mini Emma wand previous for them and i loved it.
The Keri is a Spoon shaped vibrator that has a very slim handle made from silicone which features the SVAKOM emblem in stainless steel.  Along with a bulge at the tip. I found as well as being a great clitoral vibrator the Keri works well as an internal vibrator as the Tip Acts as a g spot stimulator. The vibrations travel all through the handle which can also be used for external stimulation.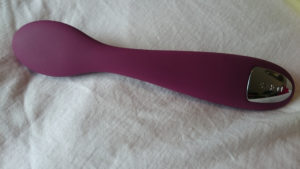 The shape of Keri means it is very easy to use and comfortable to hold during use. The long handle means I can hold it at a distance and still get the pressure I need to orgasm. That moves me onto orgasms… Well along with the shape of Keri it actually managed to give my 5 orgasms straight off. I had it on the third vibration setting and continued to use it, the shape of the head meant I could vary the angle against my clit to give a more pin point vibration.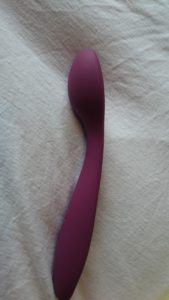 The Keri I received is Violet it also comes in a soft pastel baby pink. The Silicone SVAKOM use is very smooth and doesn't really attract lint or hairs so you won't have to worry if you place it down for a few minutes. Keri is 100% waterproof and has 5 different vibration modes, for each mode it has 5 intensities. Together that is 25 different patters/vibrations to choose from. It is also made from environmentally friendly silicone which SVAKOM make sure undergoes vigorous tests to ensure it is of the best quality.
To control the Keri it has a button with an S on this is held to switch on/off and pressed to cycle through the intensities. If pressed twice quickly it changes mode. The Keri is so easy to use during penetration Mr and I were having sex and I decided to use it the shape of the handle means that I can hold it against my body without it poking into either of us.
Overall Rating
Appearance

Build Quality

Intensities

Vibrations

Value For Money

Orgasm
Summary
I love the slim tip and I really think that the Keri is a great vibrator for those who want a vibrator that can have multiple purposes you can use it both internally and externally. The shape and size also mean that if you are not into large or girthy vibrators the Keri would be a great option the size is none intimidating. The subtle feminine design is really something that is continuous through the SVAKOM range.
RRP: £31.82

Use code: AEDXDAKZ To get 50% of your Keri SVAKOM are offering this discount to US customers in return for a review via amazon 10 days after Reciept of the Keri.
You can find The SVAKOM Keri at

Amazon.com